The Charming Northern Town of Kastoria
by XpatAthens
Wednesday, 18 February 2015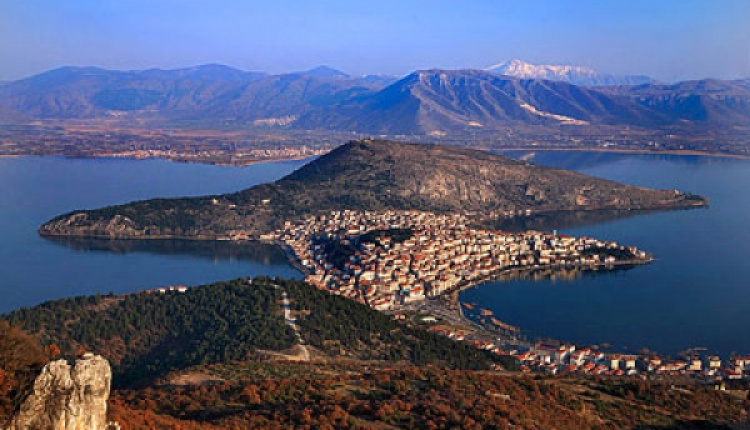 Set on a peninsula jutting out into Lake Orestiada, in Greece's mountainous northwest, Kastoria is one of the most enchanting and interesting mainland towns, despite the recent proliferation of apartment blocks. The town's past dates back to prehistory, as attested by the 1932 findings at the lakeside settlement of Dispilio.
It was fortified during Byzantine times -- when the fur trade is thought to have started -- and was hotly contested by a number of invaders going back to the 11th century, including Normans and Bulgarians -- especially the latter.
Its attractions are owed equally to its location, on the lake and in the shadow of mountains Vitsi and Grammos, as well as its long history and prosperity -- the result of its tradition as the center of the fur trade in the Balkans. In fact, one explanation for the origin of the town's name is the Greek word for beaver, "kastoras," while another is the namesake mythical Macedonian hero, a son of Zeus.

Today Kastoria, with a population of about 20,000, boasts some 70 Byzantine and post-Byzantine churches, as well as about half a dozen splendid mansions ("archontika") of the old fur families, from the 16th to the 19th centuries, when the trade was perhaps at its peak. Local furriers established branches in most major European cities. Some of them are still in operation, although the number of enterprises has significantly diminished in the last few decades. In more recent years, the town has not been a major trapping center, but mostly relied on fur scraps imported from Canada, Scandinavia and, more recently, Russia to make coats and other items. Even today, the visitor is struck by the ubiquitous signs in Russian -- a measure of the still strong commercial ties with Eastern Europe.

The broader district, with its cultural, archaeological, environmental and natural attractions, is a prime winter destination. A walk around the old neighborhoods is not to be missed. The aesthetically lacking building boom of the 1970s and 1980s, mostly evident along the southern part of the peninsula, fortunately left intact the old quarters of Doltso and Apozari and the old archontika in the heart of the town -- boasting two or three levels – which have been restored and reinhabited or turned into guesthouses and museums, such as the Nerantzi-Aivazi mansion, whose former occupants left in 1972 and which is now an excellent folk history musuem.

One of visitors' and locals' favorite activities in Kastoria is taking a stroll along the footpath that runs around the lakeshore of the peninsula -- about 8 kilometers long -- lined with plane trees and the occasional fountain. The lake, which has an area of 28 square kilometers, hosts plenty of wildlife -- including frogs, tortoises, cormorants and Dalmatian pelicans. Winter in Kastoria usually lives up to its name and there is a good chance you will catch idyllic images of frozen or snow-capped tree branches hanging over the water. The setting is, in fact, perfect for an invigorating winter walk.
By Haris Argyropoulos