Ikaria's Villages, Beaches And Thermal Springs
by XpatAthens
Wednesday, 18 February 2015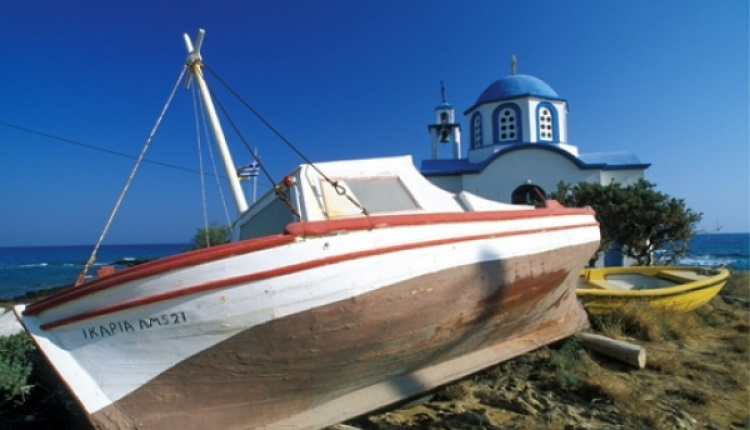 Ikaria is a majestic island of the Eastern Aegean Sea and the home of the mythical Ikaros. Here you will find wild beauty, breathtaking panoramas, clean mountain air, therapeutic hot springs, truly unspoiled seas and friendly people. A rarity amongst the Greek Islands, Ikaria has remained true to herself and to the ways of her people—the Ikarians. Tourism on Ikaria is unimposing for all and reflects an "Ikarian Balance" between nature, freedom, time and development. Come visit Ikaria and see for yourself.
Ikaría's Villages

Agios Kirykos: Seamen and captains had built their houses in the capital of the island to give it an air of marine tradition. In the archaeological museum this tradition lives on, as a great part of the exhibits had been fished out of the bottom of the sea. In the North there is another port village, Evdilos. Built around and above the port, the village is a beauty with traditional houses, cobbled streets, and a characteristic local colour.
 
Karavóstamo: It is the largest village and a very hard-working one; seafarers and the workmen who built the churches and the arched bridges of Ikaria used to reside here.

Karkinágri: It is an isolated fishing village, in the proximity of cape Papas, which is alleged to house the most fun-loving villagers of the whole island. It is also very impressive as it rests beneath a mountain with heaps of large stones. An old belief has it that the stones were thrown onto the island by God, when he had finished creating the world and had no longer need of building material.
Christós: One and two-storey traditional houses and cobbled streets mark the main village of the mountainous area of Raches. But tradition here does not hold strong only in architecture; in old times, farmers and unskilled workers of all kinds in an unrelenting need of making a living, would come here after the end of the working day, to trade their goods and shop. As a result, shops would be open when there would be no more daylight. Nowadays, shops in Raches keep the old habit; they are open from dusk till dawn!

Source: visitgreece.gr and Island-ikaria.com