Most Beautiful Towns In Greece
by XpatAthens
Tuesday, 07 January 2020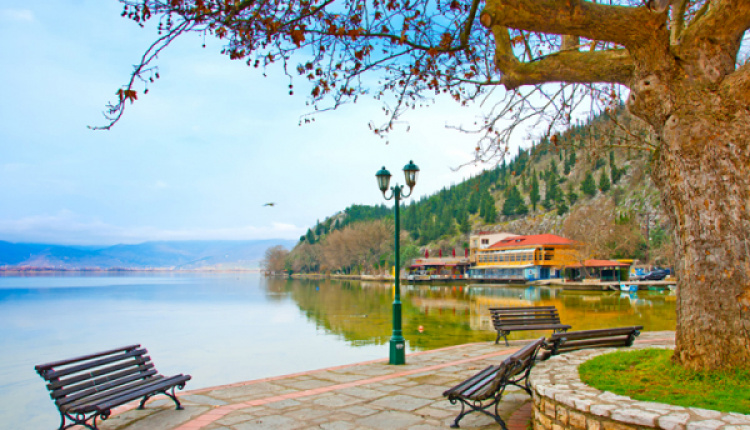 A land of incredible natural beauty, fascinating history, and colorful folklore, Greece arguably has something for everyone. From quaint coastal towns to alpine mountain villages and multicultural Macedonian cities, this is a selection of the must-visit, off-the-beaten-path destinations where you will discover a different side of this remarkable country.


1. Nafplio
Few cities reflect Greece's rich and diverse history as well as Nafplio, one of the country's most elegant and romantic destinations. Located in the heart of the historic Argolis region on the Peloponnese peninsula, Nafplio has deep cultural roots in Ancient Greece and the Venetian period of the 15th and 17th centuries. It flourished as modern Greece's first capital in the early 1800s. The city boasts gorgeous neoclassical mansions, beautiful Venetian architecture and scenic alleys. Its landscape is composed by two Venetian castles, Palamidi and Acronafplia, built on two successive hills. Not to be missed, the small fortress of Bourtzi in the Argolic gulf, a short ferry ride from the city, offers unique views over Nafplio and an ideal setting for romantic getaways.

2. Parga
The quaint town of Parga is the most popular summer destination in Epirus, in western Greece. Built amphitheatrically on the slopes of Pezovolos hill and surrounded by lavish greenery and beautiful blue sea, the town has a laid-back island feel to it. Amongst Parga's highlights, the visitor can enjoy its charming and colorful waterfront houses and stone-paved squares, and visit the ruins of an old Venetian castle atop the hill. Nearby Valtos and Lichnos beaches, connected to the port of Parga by boat, are amongst Greece's finest.

3. Kalampaka

With a population of roughly 12,000 people, the small town of Kalampaka is located in Central Greece. It is built on the foot of the most spectacular Meteora pinnacles, a complex of abrupt rock formations that host one of Greece's biggest and most important group of monasteries and UNESCO World Heritage site. Kalampaka has a rich history dating back to ancient Greece and especially the Byzantine era, with plenty of beautiful Orthodox churches and chapels. You can stroll down the narrow cobblestone streets of the town's picturesque old quarter, Sopotos, much of which is built under the shadow of the rocks, and enjoy beautiful Macedonian traditional architecture.

4. Kastoria
Northern Greece's hidden gem, the photogenic city of Kastoria is built on a narrow strip of land amidst the still waters of beautiful Lake Orestiada, giving the impression of a floating island. The city flourished during the 19th century as a fur trade and manufacturing center, and many of its traders' luxurious mansions and traditional houses can be admired in the old quarters of Doltso and Apozari, along with 72 beautiful churches that are a testament to Kastoria's rich Byzantine past. The lovely promenade around the lake is perhaps one of Greece's most scenic walks, offering spectacular views of Kastoria and its surrounding mountains.

5. Karpenisi
Widely popular among winter sport enthusiasts and nature lovers, Karpenisi is a small town situated in a remote and sparsely populated area of Central Greece that is called the country's 'Little Switzerland.' The town's reputation owes much to the unspoiled natural beauty of its surrounding mountains, alpine forests, and whitewater rivers, which make it an ideal destination for true escapism. For its size, Karpenisi offers a decent choice of traditional lodgings, bakeries, and restaurants, and boasts a wide variety of local delicacies, such as its famous leek sausages and internationally awarded prosciutto, crafted from a porcine breed native to the area.

6. Metsovo
Situated at an altitude of 1,200 meters in the very heart of the majestic mountain range of Pindos in Epirus, Metsovo is undoubtedly one of Greece's more picturesque towns. The city was home to some of the country's most skilled stonemasons who used the region's rich natural resources to build gorgeous mansions, monasteries, fountains, and cobbled streets and squares, most of which remain untouched by time. Nearby mountain peaks and slopes and pristine forests offer an arresting sight to visitors, who can enjoy scenic hikes in the surrounding area. Despite the rapid increase in tourism in recent years, Metsovo still preserves its traditional character, perfectly combining the past with the present by offering a multitude of cultural and sport activities all year round.
To read this article in full, please visit: TheCultureTrip.com