"Il Giardino Segreto" in the Atrium of Alexander's Lounge
by XpatAthens
Saturday, 27 May 2023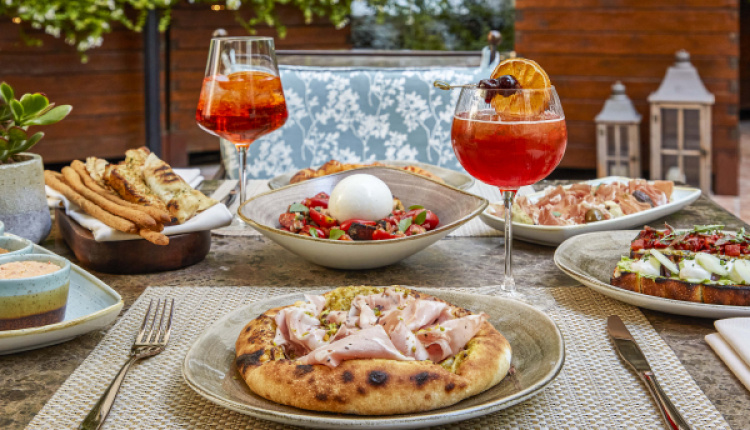 The ATRIUM of Alexander's Lounge, an outdoor "secret garden" located on the first floor of the Hotel Grande Bretagne, is the ideal meeting point at anytime of the day. Olive trees, laurels, small cypresses and flowers perfectly blend with the elegant surroundings, away from the city's soundscape while still in the heart of Athens.


As the sun goes down, Executive Chef Asterios Koustoudis and his culinary team invite you to discover the "Il Giardino Segreto" in order to enjoy a unique aperitivo while savouring authentic Italian accompaniments prepared in his open kitchen using carefully selected Mediterranean ingredients that elevate the taste. No one can resist the delicious aroma wafting from the garden's oven while baking six different styles of handmade sourdough pizza with fine organic tomato sauce and special international cheese varieties and crispy focaccia with olive oil and sea salt for the bruschetta of your choice.


The cheese selection of the menu features Greek cheese specialties including truffle graviera, manoura from Sifnos, aged kaseri from Sohos, and is served with the special cold cut of the day featuring Jamon Iberico, Prosciutto San Daniele, Sbriciolona among others. Thinly sliced ​​on the spot with the impressive red vintage machine, it will land on your table paired with artichokes from Tinos island, 'salami' made of fig and olives. Not to be missed are the delicious panzanella salad with sweet cherry tomatoes and buffalo burrata from Kerkini as well as the famous Spanish anchovies with your bruschetta.


To satisfy a sweet tooth, Pastry Chef Alexandros Koufas prepares daily a velvety handcrafted gelato selection with high quality natural ingredients and fresh seasonal fruit as well as the renowned Baba Napoletano dessert with citrus syrup, Aegina pistachio and vanilla-mascarpone cream.


In this unique atmosphere, the award-winning bartenders of the historic hotel, compose refreshing aperitifs and cocktails to complete the experience while the remarkable wine list features selected wines from Tuscany, Piemonte and Sicily, also available by the glass. For the cigar aficionados, the ATRIUM of Alexander's Lounge features a worth-exploring variety of perfectly preserved cigars.
Visit the ATRIUM of Alexander's Lounge, the most elegant summer city escape to unwind and recharge.


OPERATION HOURS
ATRIUM OF ALEXANDER'S LOUNGE | 11.00 - 02.00
IL GIARDINO SEGRETO MENU | 17:00 – 00:00