Kuzina~An Impressive Greek Restaurant In The Heart Of Athens
by XpatAthens
Tuesday, 07 May 2019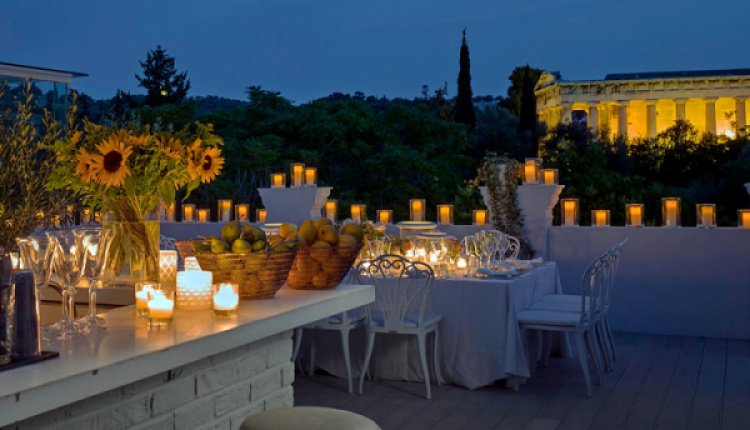 On the busy and picturesque Adrianou Street right in the historical center of Athens, you'll find
Kuzina
– one of the most charming restaurants in town! Aris Tsanaklidis, one of the most creative chefs in Greece, leads the kitchen that since 2006, has produced several signature dishes, inspired by local ingredients and traditional Greek food.
Kuzina is housed in a beautiful mansion on one of Athens' most scenic pedestrian streets. However, it's on the top floor that you'll find a real surprise; Kuzina's famous rooftop terrace or 'tarazza' is open from April to October and invites guests to savor a unique culinary under Athens' moonlit sky while enjoying exceptional views of the Acropolis and the Temple of Hephaestus.
The dumplings with feta cheese mousse, the slow roasted lamb shank, and the Armenoville ice cream are just a few of our favorite signature dishes, but keep in mind that the menu changes twice a year and is always based on seasonal ingredients.
Apart from the awe-inspiring rooftop terrace, Kuzina's interior space is beautifully decorated in an all-white theme with rustic elements, an impressive bar, and open kitchen. During the summer you can take a seat outside and enjoy your delicious meal while engaging in Athenian people watching.
Placing a reservation in advance is highly recommended as Kuzina tends to get extremely busy, especially during the summer months.
Address: 9 Adrianou, Thissio
Telephone: 210 3240133
Dress Code: Smart Casual