The Butcher Shop In Gazi
by XpatAthens
Monday, 16 February 2015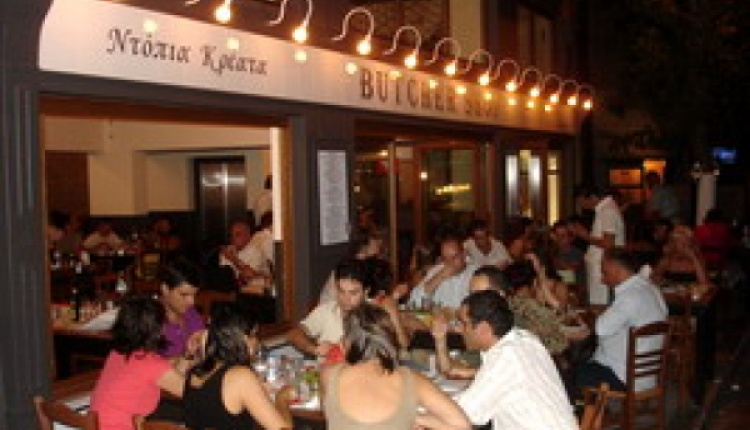 In Gazi. Oh my God. I had no idea that you can get such good meat in Greece. If you fancy delicious burgers, sausages, steaks... this is where you want to eat. I love this place! The fries are also really, really good. Tables outside on both sides of the street (mostly pedestrians), and inside on the ground floor and upper floor. Plenty of space for a romantic 2-person table on the farther side of the street, or a bigger group just outside the restaurant, or inside on the ground floor. Upstairs you can sit on a little balcony, or inside. Your choice. Please go and eat here, you won't be disappointed!!
We found this place after being turned away from Mamacas because they did not have any available tables. Since it was already 10:30 p.m., we decided to walk up the street and simply look for an interesting place to eat.
We stumbled into this restaurant and we were glad we did. As the name implies, this is not a place for vegetarians. Meat, meat and more meat is focus of the menu. The meats that we ordered were simply prepared, grilled over an open fire and wonderfully seasoned. This is not a filet mignon restaurant. They use less expensive cuts but the texture and taste were great. Instead of lamb rib chop, they served lamb leg chop. While it is a tougher cut, the flavor is far superior. By the end of the meal, we all agreed that the menu was simple, basic and delicious, and that we had make a great decision in eating at this location. If you go, don't forget the salads, especially the one that has a lot of chopped mint. I can't remember the name of the salad, however, I really enjoyed it.

The dishes were fairly priced. The atmosphere was simple, fitting into the taverna category. They had both indoor and outdoor seating. The menu has an English translation and our waiter spoke English. The crowd, however, was strictly young adult Greeks. I did not hear any other language spoken in the restaurant other than Greek. The restaurant is located in the Gazi area which is, to my understanding, frequented more by Greeks than tourists.
Photo courtesy of Matt Barrett: http://www.athensguide.com/gazi/index.htm
Hours Daily noon-1am Location Gazi, Gazi-Kerameikos-Thissio Transportation Metro: Kerameikos Phone 210/341-3440 Prices Main courses 15€-30€ Credit Cards Not accepted.
Do you have a recommendation or recipe to share? Send it to us at ideas@xpatathens.com!