Traditional Orange Spoon Sweet
by XpatAthens
Thursday, 14 April 2022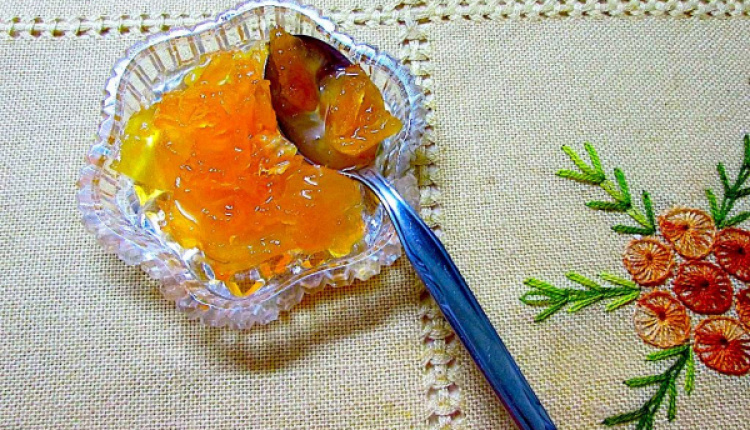 Spoon sweets are sweet preserves, served in a spoon as a gesture of hospitality and are a big deal here, in Greece. They can be made from almost any fruit, though sour and bitter fruits are usually preferred.

Check the below recipe for an easy-peasy recipe for a delicious orange spoon sweet that will excite your guests' palate!

Ingredients

2 kilos oranges
800 g granulated sugar
800 g water
1 tablespoon glucose
2 star anises
2 pods of cardamom
lemon juice of 1 lemon

To serve

strained yogurt
rosemary

Instructions
Remove the zest of the oranges and add it to a bowl. You can add 80 g brandy and 2 tablespoons sugar, and use it as orange extract. Store it in the refrigerator, sealed in a jar.

Cut the top and bottom ends of the oranges and then score the rind all around the orange. Carefully remove the peels, wrap them, and pierce them with a toothpick.

Transfer the peels to a pot with boiling water and boil for 5 minutes. Drain the water and follow the same process 1-2 more times, depending on the bitterness of the rind.

In the same pot add the sugar, the water, the glucose, the anise, the cardamom, the peels of the oranges, and transfer over low heat. Boil for 40-50 minutes.

Remove from the heat and add the lemon juice.

Let it cool well. The more the syrup is cooling down, the more it will thicken.

Serve with yogurt and rosemary. You can store it sealed airtight in a jar, in a cool and dry place.

To read the full recipe, please visit:
akispetretzikis.com