Koulourakia - The Greek Easter Cookie
by XpatAthens
Monday, 26 April 2021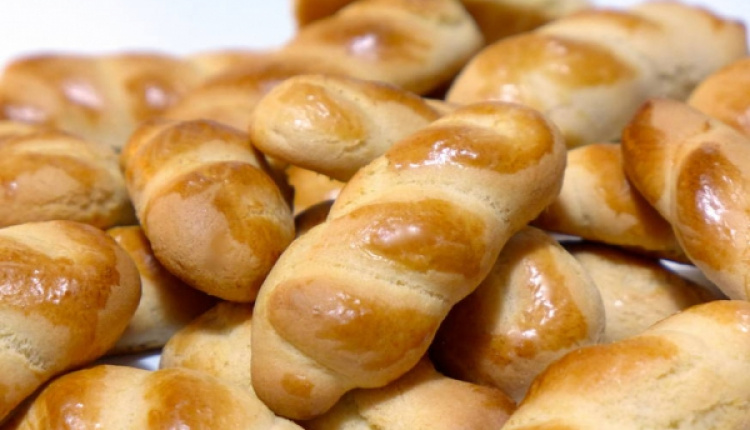 The fluffiest and crunchiest Greek Easter cookies (koulourakia) you have ever tasted! These Easter cookies are quick to bake, fun to make, and very addictive to eat! With this old fashioned, mama-style Greek koulourakia recipe
from
you'll make a large batch of these delicious cookies, enough for everyone to try.
Have fun with the whole family kneading the koulourakia into bunnies, braids, boats, swirls, and little "S" shapes. Serve over a hot cup of coffee and you have a match made in heaven.
Yield: 35-40 cookies
Difficulty: Easy
Prep Time: 50minutes
Cooks in: 20 minutes
Ingredients
300 g butter
300 g granulated sugar
1 teaspoon(s) vanilla extract
2 eggs, medium
120 g orange juice
orange zest, of 2 oranges
50 g brandy
1 kilo all-purpose flour
1/2 teaspoon(s) baking powder
1/2 teaspoon(s) baking soda
50 g milk
1 pinch salt
cloves, for the eyes
1 egg yolk, diluted in 2 tablespoons water
Cooking Method

Step 1: Preheat the oven to 190ο C (375ο F) set to fan. I
n the mixer's bowl add the butter, sugar, vanilla extract, and beat with the paddle attachment at medium speed for 5 minutes, until the mixture is fluffy.
Step 2:
Add the eggs one at a time, the orange zest and juice, the cognac, and keep beating.
Step 3:
In a bowl add the dry ingredients (flour, baking powder, baking soda) and mix with a spoon.
Step 4:
Add half of the dry ingredients into the mixer, the milk, the salt. Keep beating for 1-2 minutes.
Step 5:
Remove the bowl from the mixer, add the remaining dry ingredients, and mix with a spoon until the ingredients are homogenized. Continue kneading with your hands until a dough is formed.
Step 6:
For bunny shaped cookies, cut a 30 g piece, shape it into a strip, and swirl it like a snail for the body of the bunny. Cut a 15 g piece, shape it into a small strip, and roll it in the shape of a fish. In this way, you will create the head of the bunny. Add a clove to create the bunny's eye. Use a round 3 g piece of dough for the tail.
Step 7:
Transfer the cookies onto baking pans lined with parchment paper, brush with egg wash, and bake for 15-20 minutes.
Step 8:
Let them cool and serve.