Sweet Christmas Traditions
by XpatAthens
Monday, 04 December 2017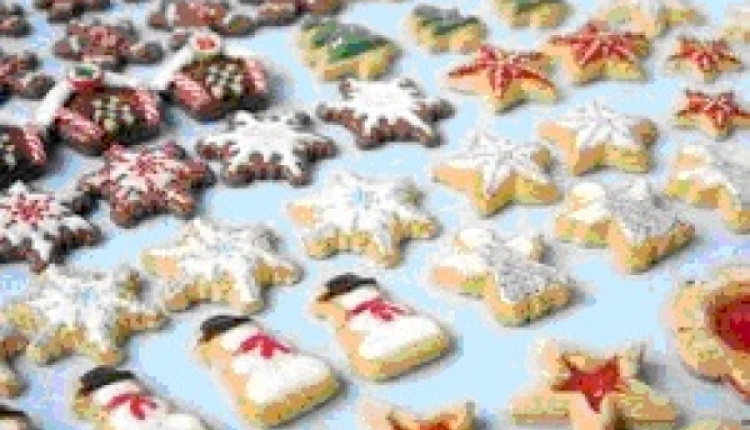 Whether you're someone who loves Christmas or someone who can't really be bothered with all the cheer and bright lights, here are some great little Greek (sweet!) traditions to get you into the spirit. If you're a baker or just an adventurer in the kitchen, try these incredible recipes at home. If you're none of the above, but can appreciate the great taste of a good cookie…pop in to your local bakery and pick up some Melomakarona and Kourabiethes. You won't be disappointed!
Melomakarona Cookies:

This is definitely one cookie that reminds Greeks of Christmas. Cinnamon, cloves, orange - a traditional combination of tastes identified with the holiday season - are the common factor in these fabulous cookies that are (most often) dipped in a lightly spiced syrup after baking, then topped with sprinkled nuts.

In many parts of Greece, the term "Christmas Cookies" means Melomakarona. Similar cookies called Phoenikia (also finikia) and Isli are seasonal favorites as well. Some versions of Melomakarona are made with nut centers, while others, like the recipe below, with Walnuts are made with optional ground nuts in the cookie dough.

Prep Time: 25 minutes

Cook Time: 30 minutes

Ingredients:

For the cookies:

• 1 cup olive oil
• 1 cup vegetable oil
• 3/4 cup sugar
• Zest of one orange
• 3/4 cup orange juice
• 1/4 cup brandy
• 2 tsp. baking powder
• 1 tsp. baking soda
• Pinch of salt
• 7 1/2 cups all-purpose flour
• 3/4 cup walnuts, ground coarsely
• Ground cinnamon for sprinkling

For the syrup:

• 1 cup honey
• 1 cup sugar
• 1 1/2 cups water
• 1 cinnamon stick
• 3-4 whole cloves
• 1-2-inch piece lemon rind
• 1 tsp. lemon juice

Preparation:

Preheat the oven to 350 degrees.

In a small bowl, using your fingers, combine the orange zest with the sugar – rubbing the grains as if you were playing with sand to release the orange oils into the sugar.

Using an electric mixer, beat the oil with the orange sugar until well mixed. In a separate bowl, sift the flour with the baking powder, baking soda and salt. Add the orange juice and brandy to mixer and mix well. Slowly incorporate the flour cup by cup until the mixture forms a dough that is not too loose but not quite firm either. It will be dense and wet but not sticky. Once the flour is incorporated fully stop mixing.

To roll cookies, pinch a portion of dough off about the size of a walnut. Shape in your palms into a smooth oblong shape, almost like a small egg. Place on an ungreased cookie sheet. Shape and roll cookies until the sheet is filled. Press the tines of a large fork in a crosshatch pattern in the center of each cookie. This will flatten them slightly in the center. The cookies should resemble lightly flattened ovals when they go in the oven.

Bake in a preheated 350-degree oven for 25 – 30 minutes until lightly browned. (The cookies will darken when submerged in syrup.)

While the cookies are baking, prepare the syrup.
In a saucepan, combine the honey, sugar, water, cinnamon, cloves, and lemon rind. Bring the mixture to a boil then lower the heat and simmer uncovered for about 10 to 15 minutes. Remove the cinnamon, cloves, and lemon rind and stir in lemon juice.

Place the ground walnuts in a shallow plate or bowl next to the stove top. When the cookies come out of the oven and while they are still very warm, carefully float the cookies in the syrup and allow the cookies to absorb syrup on both sides.

Using a fork or small spatula, remove the cookie from the syrup and place on a platter or plate. Press ground walnuts lightly into the tops of the cookies (syrup will help it adhere) and sprinkle lightly with ground cinnamon.

Do not refrigerate Melomakarona as they will harden. Store in an airtight container at room temperature.

Kourabiedes Cookies:

Sugared shortbread cookies that melt in the mouth! Kourabiedes are rarely absent from homes all over Greece at Christmas. Often made with toasted almonds, they can also be made with other nuts (walnuts, hazelnuts). They can be made in circular shapes, crescents, made by hand, or rolled out and cut, but the one thing all versions have in common is that they are rolled in, dusted with, or buried under a flurry of confectioner's sugar. Be sure to make extra because these will go fast!

Prep Time: 50 minutes
Cook Time: 20 minutes
Ingredients:

• 1 lb. unsalted butter, softened
• 2 large egg yolks
• 1/2 cup confectioner's sugar, plus more for dusting (about 2 cups)
• 2 tbsp. ouzo
• 1/2 tsp. vanilla powder (substitute two tsp. vanilla extract)
• 1/2 cup almonds, toasted and chopped very finely
• 1 lb. cake flour (about 3 1/2 - 4 cups)
• 1/2 tsp. baking powder
• 1/2 tsp. baking soda
• Whole cloves for decoration (optional)

Preparation:

In the bowl of a stand mixer, add the butter and mix until light and fluffy, about 5 minutes. Scrape the sides of the bowl and add egg yolks and confectioner's sugar. Mix well. Add the ouzo, vanilla, and the toasted chopped almonds.

In a separate bowl, sift the flour, baking powder and baking soda together. With the mixer on low, add the flour to the butter mixture and mix until incorporated. You don't want to over mix the dough because that will toughen the cookies.

Chilling the dough for about half an hour makes it easier to handle and roll.

Preheat the oven to 350 degrees.

Shape into a crescent or circle. To make a crescent, take a piece of dough about the size of a walnut. Roll it into a log and then curl the ends in and pinch slightly to make a half-moon or crescent shape. Stud each cookie in the center with a whole clove and bake in the preheated oven for 20 minutes or until just beginning to brown.

When the cookies are still very warm, dredge in confectioner's sugar. (Handle them with care!) The sugar layer will almost melt and coat the cookies. After the cookies cool a bit, add another dusting of confectioner's sugar. A! Remember to remove the clove before consuming, unless you like to chew on whole cloves!

Enjoy and Happy Holidays!!