An Unexpected Athens Virtual Tour
by XpatAthens
Monday, 29 March 2021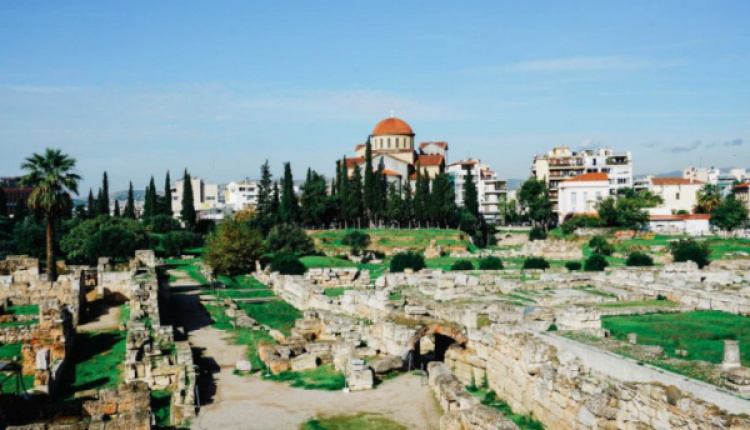 Welcome to the age of virtual tours! Would any of us actively choose a virtual tour over a real life one? How could it possibly measure up; stripped of the sounds, tastes, smells and general hubbub of life? But with so many postponed holidays, many tour operators are stepping into the void with immersive and live guided city interactions that provide wonderful "appetisers" for the real thing.


Not only can they be a great way to stay close to the places we love, from afar; they're also a fun and engaging way for separated friends, families and colleagues to bond. So,
This is Athens
and some of their friends went on a virtual tour of 10 city highlights that challenge the common perception of Athens, through a mix of informal narration, video clips and photography.
Here are some of the colourful revelations that inspired them to dig deeper into their exploration of Athens (even for those of us who live here)!
That Old Black Magic
In the historic neighbourhood of Keramikos lies one of the least visited archaeological treasures of Athens, we're told. The Ancient Necropolis of Keramikos, built atop the Eridanos River (which once flowed through the area until the Romans covered it up). This below-radar site spans 11-acres and is filled with monumental graves, tombstones and dramatic marble statues from the 4th to 5th century BC (including a rather menacing bull!). Most visitors miss this extraordinary spot. Even fewer encounter its fascinating dark history, apparently.
"In 2016, a very big well was discovered here with many nice objects such as cups and coins and tablets made of lead," says Thomas. "And these tablets were found to have some 'bad words' on them to invoke harm on other people. So these 'curse tablets' are said to be like an ancient form of black magic."
Kalliopi takes over the tale: "Ancient Athenians believed that water was sacred and a way to connect to the underworld. It was very common to place these tablets with curses written on them in the water of the wells, to communicate their wishes to Hades."
"So if you come and visit the on-site museum here, you can see these curse tablets for yourself. They are in a small corner though, so you have to really look out for them."
More Poetic Tales Of The Dead
From ancient souls to departed modern Greek heroes, we venture to another remarkable off-grid burial ground. This one is the First Cemetery of Athens and you'll find it near the Panathenaic Stadium in Pangrati. It's the final resting place, we learn, for a poetic pantheon of the great and good of Greece. Built in 1837, shortly after the founding of the modern Greek state, there's everyone from eminent politicians, artists and actors, to prominent Philhellenes and beloved figures of the Greek Revolution interred at this prestigious listed space.
We flip through a series of beautiful photographs. Magnificent marble tombs graced with exquisite sculptures; whimsical white chapels; all framed by towering pines and cypresses. It feels like half-park and half open-air museum. Or a free outdoor sculpture gallery, if you like.
Thomas stops at the star of the show: "Here is the Sleeping Maiden, created by one of Greece's most important Greek sculptors, Yannoulis Chalepas, from Tinos; an island renowned for its famous marble and sculptors. It is the diamond of the First Cemetery."
And again, at a particularly grand tomb with a soaring sculpture that resembles a mini-Parthenon: "This is the mausoleum of Heinrich Schliemann who excavated ancient Troy. He had a great love for Greece and asked to be buried here."
You'll need to carve out a chunk of time to see all the marvellous sights at this unexpected architectural trove, advises Thomas. "It's very big, so you might need maybe five hours to wander the whole site. But believe me, it's very, very interesting, with many amazing monuments." Adds Kalliopi: "You will also find a lot of cats. Cats are everywhere in Athens."
How Street Art Is Rebranding Athens (One Mural At A Time)
"We have made it our mission to track down and photograph all the best street art in Athens," says Kalliopi, as we arrive at what is clearly their favourite part of the tour. "Do you recognise anything about this mural? Something about the eyes, perhaps?" she asks. On our screens is an arresting black and white street art canvas, from the urban neighbourhood of Gazi. "They're the eyes of Mona Lisa?" guesses Ellen. Correctly, it turns out. Thomas elaborates: "In Mona Lisa's left eye, you can see a protestor. In her right, there is a policeman holding a riot shield. So it's a comment that if the real Mona Lisa was watching over the streets of the modern city of Athens, this is what she would see."
The acrylic paint mural was created in 2018, by Athens' most internationally famous street artist INO, and forms part of his extended homage to Leonardo da Vinci. The collective work stretches for nearly one hundred metres across the old Bus Depot building in Pireos Street. Like Banksy, INO's identity is a closely-guarded secret.
More evocative murals from other artists light up our screens one by one. I won't spoil the fun for everyone else—but my personal favourite is the sky-scraping reading lady (aka "So Many Books, So Little Time" by SimpleG). It appeared on the side of a building in Metaxourgeio in 2019 as part of the Little Paris Festival and apparently it's been voted as one of the world's top 50 street art murals.
"What do the residents of Athens think of all this street art?" asks Ellen. "Are they divided?" "It is controversial," admits Thomas. "The younger people generally like it. For them it's uplifting. Many older people consider it all graffiti, even the murals."
Regardless, over the past ten years, Athens has become one of the hottest European capitals of street art; its movement now active and diverse.
"The motivation was the financial crisis," elaborates Kalliopi, "The city felt like an open notepad where people could express their feelings and anger outside. But nowadays, it's become more creative and artistic. We have artworks whose only purpose is to beautify the area." We all find this street art segment the most engaging part of the tour. As Helen says: "It's so interesting to see how street art has changed in Athens. It's gone from angry slogans to some truly stunning pieces of work. It definitely makes me want to wander around and see more."
To read more and book your own virtual tour visit
This is Athens
!
---
Whether you've just arrived in town – or have been here for years – Athens always has new secrets to share!
This is Athens
is the official guide to this captivating city of ancient energies and booming urban culture. Compiled by a team of specialist local writers, This is Athens brings you an authentic and intimate portrait of a living Athens beyond the guidebooks – along with daily curated listings of all the best events and great weekend inspiration all-year round. From must-know neighbourhoods and emerging art hubs, to gourmet hotspots, cool shopping and the buzziest bars, This is Athens will help you to get the most out of living in Athens!
Thank you This is Athens for your contribution as an
XpatAthens Partner.
Photo Credit: Awesome Athens Experiences