Trekking Hellas - Northern Greece Hiking Tour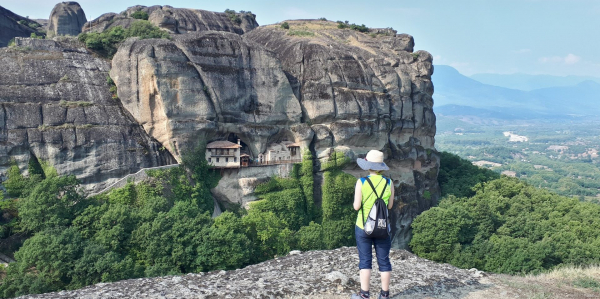 Hike Northern Greece! This country is more than white & blue.
Famous for its island and exotic beaches, however clearly a mountainous country with more than 300 mountains, it features a wide diversity, a scenery of rare beauty and unique forests some of which rank among the oldest natural wooded lands in Europe. Peaks and gorges, rivers and untouched forests make northern Greece a paradise for adventure seekers!
Join our Hike Northern Greece tour and become one of the happy few to discover the hidden gem of northern Greece. Summit Mount Olympus, homeland of the 12 ancient Greek Gods and take in the breathtaking nature and stunning views from the highest peak in Greece. Discover the mountainous paradise of Zagori, with its authentic villages and spectacular views. 44 traditional villages are scattered in this magnificent wild natural environment.
Enjoy the delicious local cuisine and the warmhearted hospitality of the people. Get the feel of centuries old local traditions and customs.
This off the beaten path tour… is a lifetime experience for thinking and active travelers!
Trekking Hellas
offers and array of hikes and active experiences all over Greece. Our team also creates tailor made tours and activities, so feel free to contact us if your preferences and needs are not met by our programs. We will help you design the prefect vacation for you! Also check out our
Active & Culture Tour in Zagori
!
EVENT INFO
When

:

15 May 2021 - 30 Oct 2021

Where

:

Epirus Zagori, Meteora, Mount Olympus

Title:

Trekking Hellas - Northern Greece Hiking Tour

Email:

info@trekking.gr

Contact Number:

+30 210 33 10 323