Trekking Hellas - 8 Days Sea Kayaking In The Dodecanese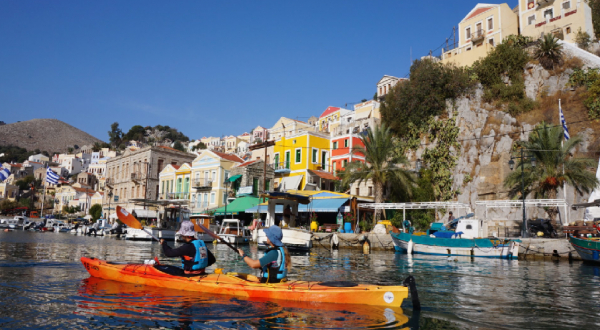 8 Days Sea Kayaking in the Dodecanese is a not-to-be-missed sea kayaking extravaganza exploring the best of what the Dodecanese Islands have to offer.


During this Sea Kayaking Tour you get to experience an adventure like no other, getting as close as possible Greek island life, swimming in crystal-clear waters and paddling in hidden bays and going to places few have been. This eco-friendly trip combines cosmopolitan and historical Rhodes, elegant Symi and Kastellorizo, one of the tiniest of the Greek Islands and the furthest to the East. 8 Days Sea Kayaking in the Dodecanese enables you to get away from the crowds and experience the real, authentic side of the region. You have the chance to see up-close how the locals live nowadays, how the sea constantly seems to be fighting with the land, how little white chapels are often hidden in the most unspoilt places, and finally, how life can be extraordinary even when it's simple. You can choose between opting for just the basic activity tour or our full package tour – which covers your accommodation and transportation too.


Highlights of 8 days Sea Kayaking in the Dodecanese.
Anthony Quinn's Bay
Lindos village & the Acropolis
Symi town & St George Disalonas
Blue Cave in Kastellorizo
Red Sand Beach
Nimos Island
Trekking Hellas
offers a variety of activities and tours on Rhodes, the Dodecanese Islands and indeed all over Greece, which can be added to your itinerary, which you can customize to your own personal taste. You can extend your stay on Rhodes, staying in charming lodging in the medieval town and continue to explore the island actively with our day tours such as Mt. Akramitis hike, Profits Ilias Sunset Hike or our Taste of Rhodes tour for those of you who love food.
EVENT INFO
When

:

01 May 2021 - 30 Oct 2021

Where

:

Dodecanese Islands

Title:

Trekking Hellas - 8 Days Sea Kayaking In The Dodecanese

Email:

info@trekking.gr

Contact Number:

+30 210 33 10 323