Cyclades Trail Cup: Folegandros Sunset Trail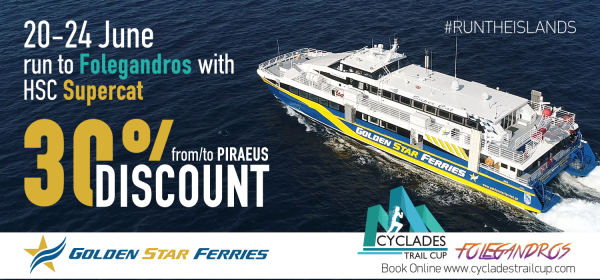 The Cyclades Trail Cup and the Municipality of Folegandros are organizing a trail running event in 22 of June 2019. In order to promote the traditional handmade trekking paths and the cultural history of Folegandros, the island will participate within the Cyclades Trail Cup 2019, the series of running events in Greek islands.
The
Folegandros Sunset Trail
race will only have one route of 10km. Athletes will run most part of the race next to the sea, starting from Ano Taxiarches village towards Chora village. The race will start at 18:45 and the race will end when darkness has fallen.
For the athletes' transportation to Folegandros island, our ferry partner GOLDEN STAR FERRIES offers you a 30% discount for all personal tickets in order to travel with the "HSC SUPERCAT" vessel from June 20 to June 24. In order to book your ferry tickets you will need to provide our travel partners, (after registration) your ID number.
All Cyclades Trail Cup events have always cultural side events in order to offer all visitors a full and unique experience. Every event will promote sports and cultural experiences like archaeology, mythology, music, dance, gastronomy etc. In Folegandros island, sports will be combined with Greek-Cycladic music and night partying.
In its 4th consecutive year in 2019, Cyclades Trail Cup presents a new set of events in alternative destinations with original routes and exciting cultural experiences! Giving priority to some of the "near" Cycladic islands, the 2019 Championship will include 5 events in 5 destinations: Kea, Folegandros, Andros, Kythnos and Tinos.
Registration will be open until 14 of June on the official website. Otherwise, athletes can sign up at the reception desk on Saturday 22 of June.
EVENT INFO
When

:

22 Jun 2019 - 24 Jun 2019

Where

:

Folegandros Island

Title:

Cyclades Trail Cup: Folegandros Sunset Trail

Email:

cycladestrailcup@gmail.com