Serifos Sunset Race 2018 – Take The Challenge & Capture The Sun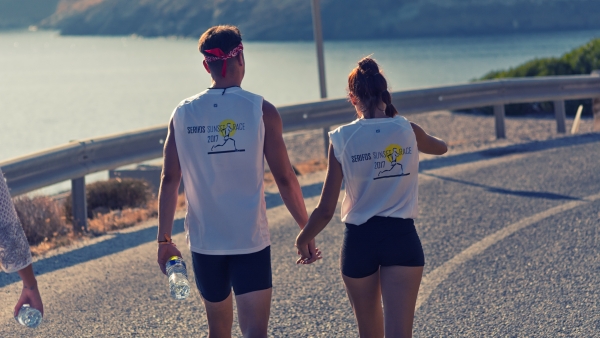 On the 22nd & 23rd of September 2018, Serifos Sunset Race will take place for the 6th consecutive year in the island of Serifos with running races of 5, 10 and 20km, swimming races 750, 1.500 and 3.000m, and running and swimming races of shorter distances for kids.


Vagia beach will be marked as the starting point for both the 5 and 10km race, giving the runners the opportunity to run next to the sea towards Koutalas bay, passing by the beautiful beaches of Vagia, Ganema and Koutalas, while enjoying the unique sunset along with the wild beauty of the Cycladic landscape.


The 20km race has been characterized as one of the most difficult races in Greece! Runners will start their journey from Serifos' harbour, heading towards Livadi, and then passing by Kalo Ampeli, Vagia, Ganema and Koutalas, returning to Vagia beach for the finish line. The swimmers of 750, 1.500 and 3.000 meters will have the opportunity to swim in a unique route at Livadi bay, taking place on Sunday the 23 rd of September. The running races will be held on a different day from the swimming races, in order to provide everyone the chance to participate in both sports, getting separate classification and special discounts.


Visit our renewed web page www.serifosrace.com, where you can find more details about our races, the beautiful island of Serifos, and book a place for a unique experience! Serifos Sunset Race supports the efforts of the equivalent access in education, health, culture and sports for all residents of the Greek islands, especially the island of the non- profit line. Part of the revenue of the race will be used on the purchase of sports equipment for the needs of the school in the island.


All the participants of the Serifos Sunset Race 2018 are allowed a discount in costs of transportation to and from the island (35%), accommodation, restaurants and car-rentals. Serifos Sunset Race is organized in cooperation of the Region of South Aegean and has the support of Serifos Municipality, local authorities and local sponsors.