Athens & Epidaurus Festival: Watersong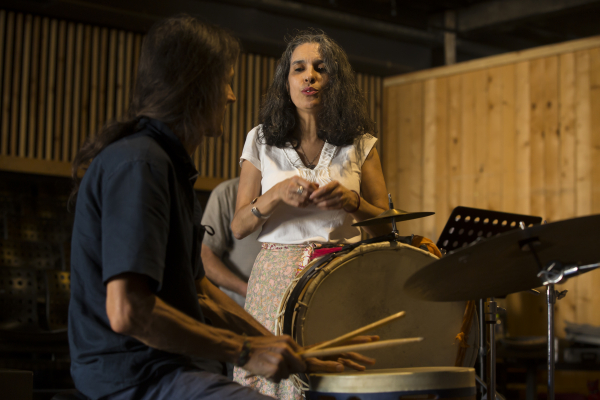 Savina Yannatou & Primavera en Salonico featuring Lamia Bedioui

Of his bones are coral made / Those are pearls that were his eyes": Savina Yannatou and Primavera en Salonico are inspired by Ariel's song in Shakespeare's The Tempest to create Watersong, a musical performance featuring songs about water and desert, life and death, fertility, magic, desire, and purification. The artists are joined by Tunisian singer Lamia Bedioui, whose distinctive voice will transport the Little Theatre of Ancient Epidaurus to the realm of the desert.

The Arabic language and the Bedouin dialect will cross paths with Mediterranean languages. Oud, qanun, ney, violin, accordion, percussion, waterphone, and contrabass are the instruments accompanying the vocals, combining traditional influences with free improvisation. Traditional and Renaissance songs from several countries are mixed together, spinning tales about water and its power, about the life that water can both give and take away. Songs about rain, the sea, rivers, tears, drops; water on the body; the body immersed into the water; ultimately, our body.


---

The Athens & Epidaurus Festival will be realised in compliance with the special directives issued by the Ministry of Health, with consideration for public health and a sense of responsibility towards the public and artists.

Audiences are kindly requested to arrive at the venue 90' prior to the start of the performance, to avoid inconvenience, in compliance with the health authorities' instructions.

All seats (upper and lower tier) are numbered.

All tickets are strictly personal and non-transferable.

During ticket purchase, the name of the person using the specific ticket must be submitted.

EVENT INFO
When

:

14 Aug 2020 - 15 Aug 2020

Time

:

21:30 - 23:00

Where

:

Little Theater Of Ancient Epidaurus

Price

:

From €5

Title:

Athens & Epidaurus Festival: Watersong

Contact Number:

210 3272000