Stand Up Comedy Special | Angelo Tsarouchas & George Hatzipavlou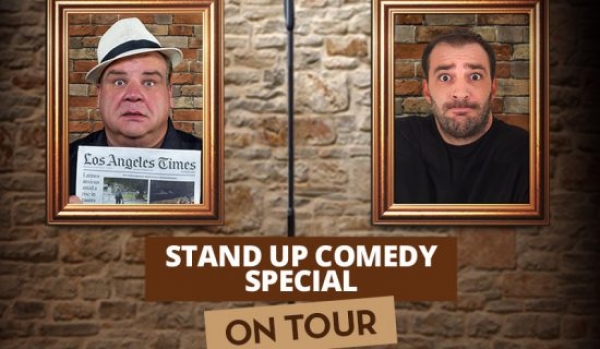 It's a comedy superpower summit!


Stand-up comedy superstar Angelo Tsarouchas is teaming up with one of the most prolific Greek comedians, Giorgos Xatzipavlou for a Greek Tour entitled "Stand Up Comedy Special".


A once-in-a-lifetime comedy experience!


Giorgos Xatzipavlou has been winning over audiences throughout Greece for years now with this past season being one of his busiest, racking up over 140 shows including a 9-stop European tour! He's currently writing his next comedy special, part of which he will be performing on this tour.
Sharing the stage with Angelo is not something that just happened. Giorgos has performed with various English language comedians (e.g. Alistair Barrie, Ben Norris and Paul Thorne) and is honoured that he will be joining Angelo to bring laughter to 4 very lucky audiences throughout Greece.


Who is Angelo Tsarouchas?


Angelo is a world-famous comedian. He has performed throughout the world, from Canada to Australia, either performing solo or as a guest for comedians such as Russell Peters or Vince Vaughan. He also combines an amazing career in stand-up with appearances in movies and TV shows such as: "Mad Men", "Last Comic Standing", "John Q", "The Recruit" and "Cinderella Man.


Angelo is coming to Greece with his new show entitled "Appetite for Discussion" in which he "serves" his experiences living in both the Greek and American culture, "garnished" with lots of laughter. Amongst other things, he riffs on how different Greek family life is and how it is growing up in the diaspora.
Make sure to buy your tickets early for this stand-up comedy special which will undoubtedly be an exceptional comedy experience.


Tour dates:
Monday 2 November - CINETHEATER KOLOSAION (THESSALONIKI)

Saturday 3 November - CINE STUDIO (HERAKLION)

Sunday 4 November- ACT THEATER (PATRA)
EVENT INFO
When

:

02 Nov 2018 - 04 Nov 2018

Where

:

Thessaloniki, Patra & Heraklion

Price

:

10€ in advance – 12€ on the door

Title:

Stand Up Comedy Special | Angelo Tsarouchas & George Hatzipavlou

Email:

info@xatzi.gr