THESMOPHORIAZUSAE by Aristophanes – Ancient Theatre of Epidaurus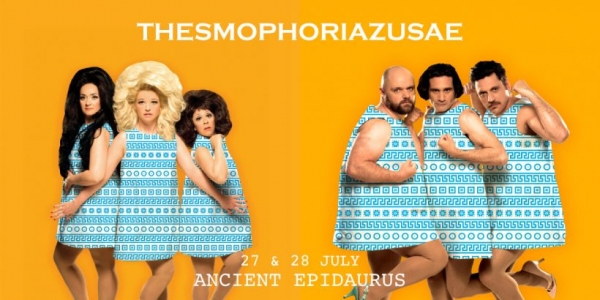 This presentation of Thesmophoriazusae forms part of the
Athens and Epidaurus festival
programme for 2018.
Euripides is upset after finding out that the women who are about to celebrate the Thesmophoria are bent on punishing him for his unflattering portrayal of female characters. In an attempt to escape, Euripides comes up with a plan: he decides to have a friend of his infiltrate the festival, disguised as a woman, and vindicate him. Mnesilochus is up to the task.
At the festival, the women of Thesmophoria, the Thesmophoriazusae – serving as the Chorus – take turns accusing Euripides. Mnesilochus takes the floor and also speaks against Euripides, but eventually tries to support him, arguing that women are responsible for far worse than what they have been depicted doing in Euripides' tragedies. Just as the Chorus begins to lose patience with him, Cleisthenes, a well-known, notoriously effeminate Athenian of the time, shows up. He announces that a man, disguised as a woman, is rumoured to be among them. Mnesilochus is unmasked and accused of violating the sacred vows. He tries to warn Euripides that they have been exposed.
In his attempt to rescue Mnesilochus, Euripides shows up several times at the Thesmophoria, each time in a different disguise, and finally makes a proposition: he will stop disparaging women in his plays on the condition that they will set Mnesilochus free. The women accept and the two men are free to go.
The performance will be performed in Greek with English subtitles.


EVENT INFO
When

:

27 Jul 2018

Time

:

21:00 - 21:00

Where

:

Ancient Theatre of Epidaurus

Price

:

From 8€

Title:

THESMOPHORIAZUSAE by Aristophanes – Ancient Theatre of Epidaurus

Contact Number:

+30 210 9282900