Trekking Hellas - Aegina Delicious City Tour & Cooking Experience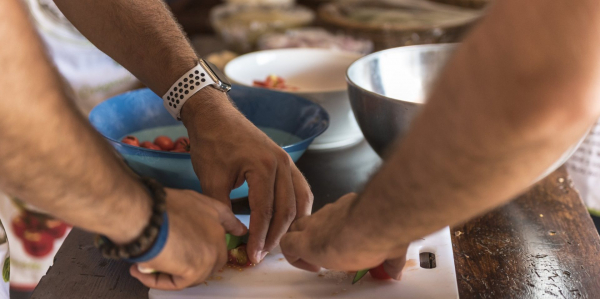 An authentic island exploration in a day full of flavors, scents, beautiful scenery and culture. A delicious city tour and home cooking.


Our day will begin with a walk in the vibrant, historic town of Aegina. We will explore its history and all its culinary hot spots. We will connect with a local pistachio grower to taste the famous pistachios and the delicacies produced with it. We will also meet an olive oil producer to taste the different types of olives and olive oil. Along the way, we will pass by historical buildings, a pottery studio and several significant religious sites. We will have the opportunity to talk and learn about the history of the island throughout the centuries. Our next stop will be the local fish market, where fishermen sell the catch of the day. Our tour will end at the local "mezedopolion", where we will enjoy a glass of wine or ouzo with a small meze.


Following the city tour, our Aegina delicious city tour and cooking experience, will lead us to a very special place as we pass by the ruins of the Temple of Apollo (Kolona). Just a few minutes-walk from the main port of Aegina, overlooking the beautiful bay and Kolona, the magnificent 19
th
century historical villa "
Pyrgos Ralli
" proudly stands with its luscious garden of olive, lemon, fig trees and colorful flowers. This will serve as the venue for our unique home cooking experience. Our host will share with us the history of the villa and welcome us in her outdoor kitchen, where we will cook together and discover some of the most famous and special traditional Greek plates, like tzatziki, dakos, dolmadakia and the unique Aegina pistachio pesto.
Tour Inclusions:
- English speaking guide
- City & food tour in the historic town of Aegina
- Ouzo and meze at the local mezedopolion Historic villa visit
- A delicious traditional meal prepared by you
- Local Greek wine
- Photos from the experience
- An apron and the recipes
Trekking Hellas
offers and array of hikes and active experiences all over Greece. Our team also creates tailor made tours and activities, so feel free to contact us if your preferences and needs are not met by our programs. We will help you design the prefect vacation for you!
EVENT INFO
When

:

01 May 2021 - 30 Oct 2021

Where

:

Aegina island

Title:

Trekking Hellas - Aegina Delicious City Tour & Cooking Experience

Email:

info@trekking.gr

Contact Number:

+30 210 33 10 323