Kastellorizo Puzzle Festival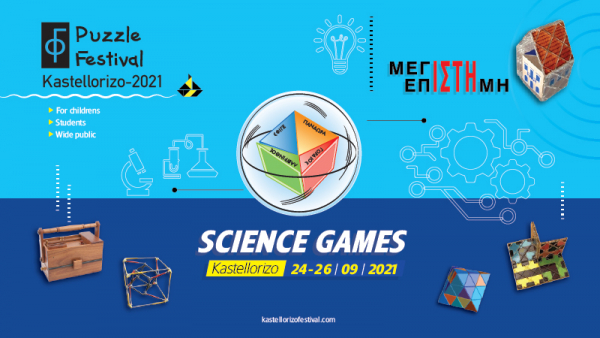 This year Science sets sail headlong for Kastellorizo, the small picturesque island at the easternmost tip of Europe with such a special historical, cultural and geographical physiognomy. It has impressive architecture, important ancient monuments, endemic flora and fauna, beautiful nature and countless paths. It is an island where important civilizations of humanity met from the Neolithic Age until today. The official name of the island is Megisti, apparently due to its larger size compared to the island complex that surrounds it.
During the three-day period 24-26 September, the 1st
Kastellorizo Puzzle Festival
is organized, a great scientific event that was born from a native-bred of this remote island and is addressed to its inhabitants. It is an event of high scientific level and mainly a big celebration of science, offering new knowledge and joy to the locals. Kastellorizo, paradoxically, is also distinguished in the field of puzzles: in 2020 the mathematician Pantazis Houlis, a former professor at the University of Western Australia, current collaborator of the University of Crete and co-founder of a company producing educational puzzles, founded a homonymous Museum, which has one of the largest collections of puzzles worldwide. Recently, it was declared as a STARTS European Centre for Science, Technology and Arts (Science+Technology+ARTS).
The festival invites audiences of all ages, not only to attend, but also to actively participate in a series of educational activities, targeted tours, scientific dialogues, theatrical games, original events, interactive experiments, exhibitions, storytelling, etc. by noteworthy scientists of various research institutions of the country. The organization has been undertaken by the Megisti Puzzle Museum, the main activity of the Association EN.I.G.MA (Union of Ideas, Puzzles, and Mathematics) in collaboration with Eleni Grammatikopoulou, with many years of experience in the field of Science Communication. It is under the aegis of the General Secretariat for Research and Innovation, the Ministry of Development and Investments and the Ministry of National Defence. Also participating are the Hellenic Pasteur Institute, the Hellenic Centre for Marine Research, the University of Crete, the Eugenides Foundation, the Union of Greek Physicists, the Science Reactors scientific team, the "Crew94&"; from Patras and other scientific/educational institutions.
More than 50 scientists, researchers, educators and artists will participate pro bono in the Kastellorizo Puzzle Festival motivated only by their love for science. The initial idea of the organizers could not be realized without the selfless offer of the participating individuals and organizations and the valuable support of the sponsors, whom we warmly thank.
EVENT INFO
When

:

24 Sep 2021 - 26 Sep 2021

Where

:

Kastellorizo

Title:

Kastellorizo Puzzle Festival

Contact Number:

+30 22460 49454

Website:

kastellorizofestival.com/en/