2nd Stray Art Festival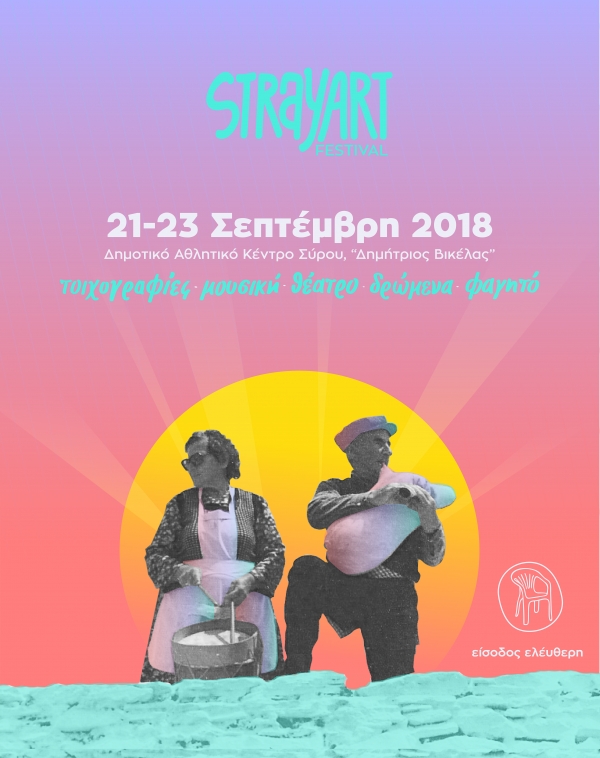 The 2nd Stray Art Festival is on its way, bringing with it the colours of summer, on the 21st until 23rd September 2018 inviting you to stroll the streets of Ermoupoli with nothing more in your "backpack" rather than your good spirits and your interest for celebration and exploration.

More than 80 participants, from street artists to performers and musicians are gathering together to celebrate street art culture.


The main event of this celebration are the wall paintings which are going to be made in the Athletic Centre of "Vikelas".Visitors will have the chance to watch live the process of the making of graffitis and have a taste of the experience of street art. In the same area you will meet musicians, performers,actors, DJs and many more strayers who will be presenting their projects with excitement and in a festive and celebrational way. At the same time, the air will be filled with beautiful smells from tasty snacks and you will find many unique cocktails, selected especially for strayers.


A three-days festival full of activities,lots of music and dancing,the feeling of island breeze and days and nights that will fill you with intense memories from the island of Syros.With a white plastic chair as a symbol,which we all have used during our summer days, we promise you that you will enjoy many unique happenings at the heart of Cyclades.


The main goal of the festival is the coupling of tradition with modern and mixing street art with greek culture. In addition, free creativity and expression through activities and happenings which take inspiration from traditional island elements but also from street art culture.Artist and young people who do not hesitate to experiment and create new forms of expression and attachments with the past as to give birth to new forms in art and culture.


This festival is organized with the initiative of the students of the Department of Product and Systems Design and Engineering, called "Spithiras" and Ourios Anemos, is co-organized by the Region of South Aegean, the Municipality of Syros - Ermoupolis and Urban Act and, finally, is under the auspices of the Chamber of Cyclades.


You are all invited in this festival which redefines the connection between modern and traditional having as a background the island of Syros. See you there!
Watch last year's after movie trailer
HERE
!
EVENT INFO
When

:

21 Sep 2018 - 23 Sep 2018

Where

:

Syros- Ermoupolis, Municipal Sports Center "Dimitrios Vikelas"

Title:

2nd Stray Art Festival

Email:

strayartfestival@gmail.com