Yoga & Fitness Escapes In Attica
by Stephanie Contomichalos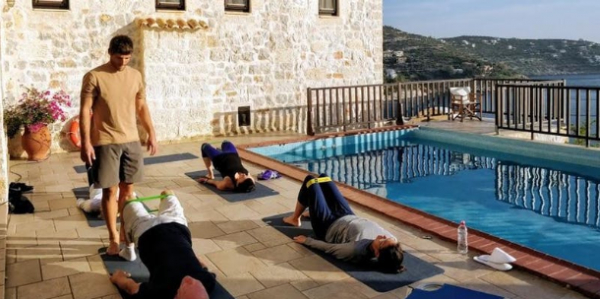 The absolute best of Attica!
Discover the beauty and hidden secrets of Athens and its surroundings. Treat yourself to a short break that your body and mind will thank you for. Experience sights, smells, and tastes that will surprise you. See the most amazing flora and fauna that Spring in Athens has to offer.
1-DAY TRIP (10 am -6 pm)
An amazing hike along ancient walkways. Discover ancient and new sites. A fabulous lunch. An afternoon yoga/stretching session in a magnificent villa with endless views of the Aegean. Afternoon tea & (healthy!) snacks.
2-DAY TRIP (choice of May 4-5, 6-7, 8-9, 10-11)
All of the above, PLUS A second day of fitness, hiking, and mobility. 3 fabulous meals a day included Locally sourced ingredients for all meals. Fresh organic juices from To Bazaki.
3-DAY TRIP (May 4-6 or May 7-9)
All of the above, PLUS A third day of a walk/hike along a meandering river which finishes with a hearty and healthy lunch at a charming family-owned farm. Food, animals and flora are truly wonderful. Two nights in a luxury villa 50 metres from the sea with the best views to wake up to. And a unique Nefeli Nine present.
Check out
Nefeli Nine Luxury Fitness Retreats in Greece
for more information!
EVENT INFO
When

:

04 May 2019 - 11 May 2019

Time

:

10:00 - 18:00

Where

:

Dikastika – (30 minutes from Athens airport)

Price

:

€75 – €250

Title:

Yoga & Fitness Escapes In Attica

Email:

Steph@NefeliNine.com

Contact Number:

+30 697 418 4632

Website:

www.nefelinine.com/