The Sound Of Silk - Top Chinese Guzheng Musician's 1st Time In Greece!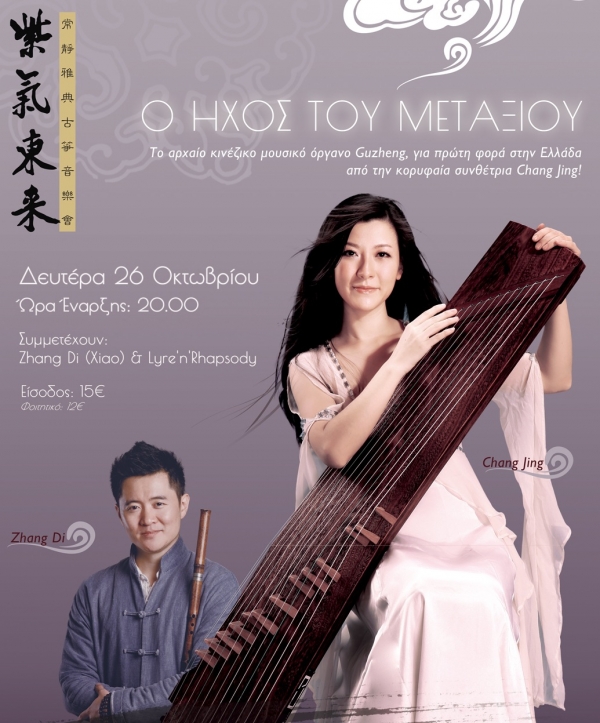 Travelling across the Silk Road, one of China's most exceptional Guzheng virtuoso Chang Jing, together with the talented Xiao (Chinese flute) musician Zhang Di, is coming to Greece to have their premiere performance at Trianon theater on 26th October at 20:00.


Guzheng, commonly referred as the Chinese zither, is an ancient stringed instrument, which origins from three thousand years ago. During the Opening ceremony of the 2008 Beijing Olympic Games, ten minutes was dedicated to showcasing the beautiful melody of the Guzheng and featuring the talents of soloist Chang Jing. She was invited to perform together with Yannis Chryssomallis in 2013 CCTV Spring Festival Gala with the annual audience of about 700 million. Her enchanting performance which combines singing and reciting classic Chinese poetry also made her a royal teacher of the Princess of Thailand.


Known as "The Zheng Beauty", Chang Jing is famous worldwide for her performance style which breaks down the boundaries of tradition and modern, east and west, creates a unique feeling of a mixture of contemporary and ancient. She is also the first Guzheng performer that combines vocal and performance.


In the concert "The Sound of Silk", Chang Jing and Zhang Di will lead the audience to enjoy a world of sound through their own creative composition and improvisation. Furthermore, Ancient Greek Lyre band Lyre 'n' Rhapsody will be invited to improvise together with the Chinese musicians.


This unprecedented concert will absolutely offer you a refreshing feeling of Chinese music and also a fantasy towards the ancient silk country with its exquisite melodies.
Besides this concert, Chang Jing and Zhang Di will also have the historical collaboration with the Ancient Greek Lyre band Lyre 'n' Rhapsody to record the first ever Chinese-Greek crossover music album which will be released in China and Greece. This music exchange project will be filmed by Meet Culture and broadcasted in China.

Meet Culture wishes to thank: Trip2Taste, To Tsai, Boutari Wineries and Discover Greece as the partners of this project.

EVENT INFO
When

:

26 Oct 2015

Where

:

Trianon Theatre, Kodrigktonos 21, Athina 104 34

Price

:

General: €15 | Students: €12

Title:

The Sound Of Silk - Top Chinese Guzheng Musician's 1st Time In Greece!

Email:

info@meetculture.com

Website:

www.meetculture.com