Goût de France-Good France 2018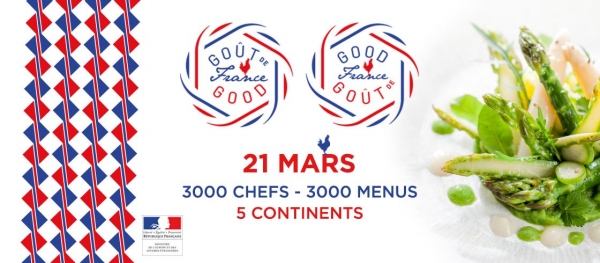 The World's Greatest French Dinner!


For the fourth consecutive year, Goût de France / Good France has been a fun celebration of the vitality of French cuisine, forging ties between chefs around the world.


On 21 March in 150 countries, Goût de France / Good France, organized on the initiative of the Ministry for Europe and Foreign Affairs, boosts the visibility of French cuisine on the world's 5 continents.


From haute cuisine to quality bistro food, offer French-inspired meal in your restaurant and participate in this great celebration!


Inspired by Auguste Escoffier, who launched the "Dîners d'Épicure" (Epicurean Dinners) initiative from 1912, Goût de France / Good France involves chefs from around the world and embassies to serve French-style dinners on the same day in various world cities.


On 21 March, France is on the menu!
EVENT INFO
When

:

21 Mar 2018

Title:

Goût de France-Good France 2018

Contact Number:

21 0339 1000