The Christmas Factory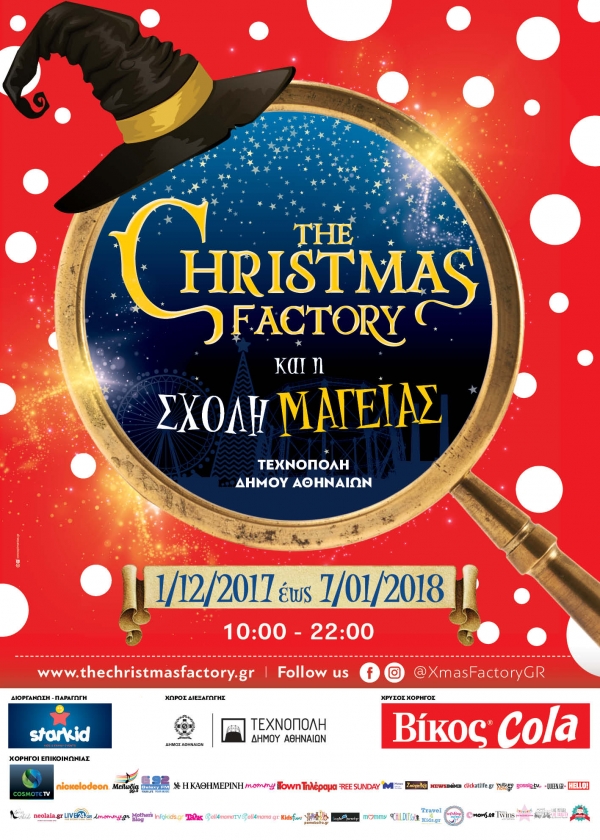 The place where dreams are realized and fairy tales come true!

This year, like every year, The Christmas Factory is returning in Technopolis, City of Athens, full of surprises, amusing games and countless gifts.
From December 1st, 2017 to January 7th, 2018 "The Christmas Factory" will be open daily, from 10 a.m. to 22:00 p.m. spreading magic and making fairy tales come true!

The Christmas Factory never stops surprising us!

Every year it gets brighter and warmer, with an even more festive decoration, imaginative workshops, unbelievable surprises, mouth-watering delicacies, exciting events, amazing games and above all ... with more free activities included in the entrance fee!
But this year a brand new space is being added and is being turned into a School of Magic to offer endless hours of fun that will take children to a whole new magical world! A teaching room, where children will be initiated into the secrets of magic tricks, and 3 "test" rooms will be waiting for our fearless and imaginative little visitors.

We will be celebrating Christmas along with our dear friends and children throughout December as well as during the first week of January.
Are there free activities for everyone? Not one or two but ... 8 free activities! Besides the three classic Christmas workshops at Santa's House, four more workshops are waiting for you at the Toy's Factory, and a new one has just been established at the Sweet Factory, appropriate for our most creative friends. Apart from these, a new playground for endless hours of play has also emerged.
Will there be a magic tree this year? Along with Santa Claus, our favorite Magic Christmas Tree; is landing in the center of Technopolis! 15 meters full of elves and gifts! Bright and gorgeous, with its strong and lush branches, our tree stands out, proud and imposing, while thousands of gifts are continuously growing in the Wheel of Fortune placed in it. No visitor will leave this year empty-handed!
Trees everywhere! 100 Christmas trees will adorn the entrances of The Christmas Factory, and the patio outside The Sweet Factory is becoming even more festive! 3 Christmas trees of 5 meters height, with a magnificent decoration, will welcome the guests and mark the entrance to the most delightful thematic building of the whole factory which, this year, is changing and becoming even more attractive, fragrant and sweeter!


No food, no fun.. This year you will be offered even more choices than any other year, with new meeting points, higher quality in every provided service, warmer smiles and more immediate service. During your break from play you can choose among delicious dishes, tasty meat options, freshly baked hotdogs, pizzas, pasta, crispy salads and warm, fragrant wine traditionally offered in the large corresponding markets of Central Europe during Christmas period.
Music, theatrical plays, happenings, every day!

*Monday – Friday : 2 tickets for the price of 1, until 23/12

1st Family Package
4 people, 20€ (initial price 22€)
2 nd Group Package
10 people, 49€ (initial price 55€)


EVENT INFO
When

:

01 Dec 2017 - 07 Jan 2018

Time

:

10:00 - 22:00

Where

:

Technopolis, City of Athens : 100, Peiraios Str, Gazi

Price

:

Entrance Fee: 5,50 euros

Title:

The Christmas Factory

Email:

press@athens-technopolis.gr

Contact Number:

213 0109300

Website:

www.technopolis-athens.com