Annual Christmas Bazaar Of The Friends Of Merimna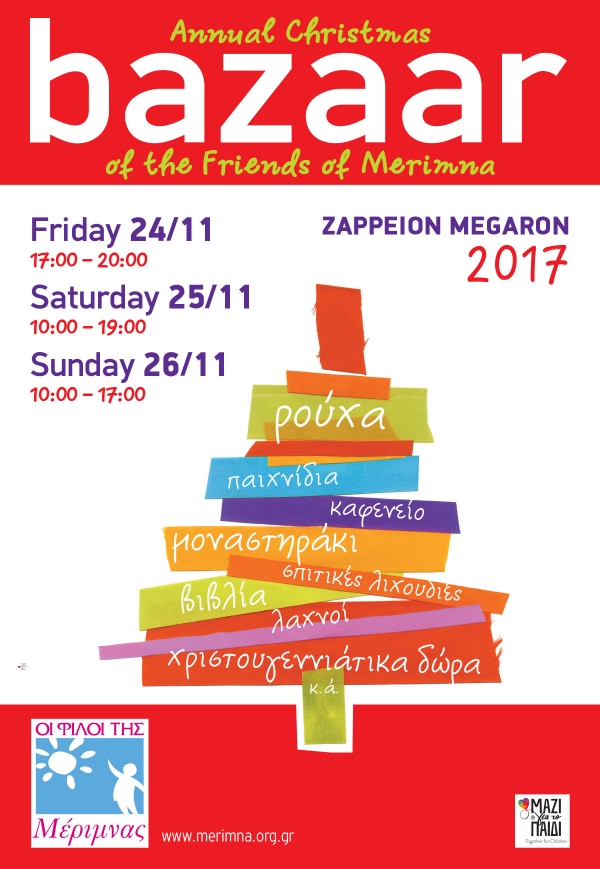 This Bazaar is famous for the large variety of new and gently used clothing and books for all ages, as well as toys and household items, alongside homemade delicacies and wonderful handmade Christmas gift ideas - ALL AT BARGAIN PRICES FOR A FULL THREE DAYS! And don't forget to buy your raffle tickets - EVERYONE WINS!! Finally you'll find an amazing assortment of food and treats at our Cafe!!!


The proceeds from the Bazaar will go to support the work offered by Merimna's two services:

•"Pediatric Palliative Homecare Service" Experienced doctors, nurses, psychologists and social workers from Merimna provide a homecare service for seriously ill children and their families during the last stages of their illness.
•"Childhood Bereavement Counseling Centers" Specialized psychological support for children and adolescents who are grieving the loss of a loved one.


All of Merimna's services are provided free of charge, so come and support the vital work we do and enjoy a wonderful holiday experience!