CYA/DIKEMES Lecture Series - The Public As Stakeholder In The Development Of Elliniko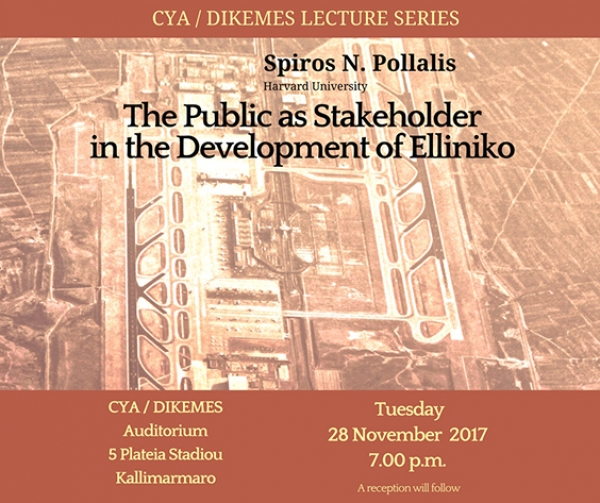 Prof. Pollalis approaches the development of the former Elliniko airport focusing on the short term and long term benefits and potential harm to the taxpayers and the citizens of Athens. The speaker will examine what the objectives of this project should have been, what they finally were, how they were communicated, and how successfully they have been met.

Spiros N. Pollalis is Professor at Harvard University specializing on sustainability and directs the Zofnass Program at Harvard, which has produced the Envision® rating system for the sustainability of infrastructure and cities.

Prof. Pollalis has planned cities in Asia, one of them under construction for 600,000 people, and serves on industry and academicBoards.

His most recent book Planning Sustainable Cities, An Infrastructure- based Approach, was published by Routledge in 2016. From June 2011 to April 2014, Prof. Pollalis served as Chairman and CEO of Hellinikon SA, the public company for the development of the former airport.
EVENT INFO
When

:

28 Nov 2017

Time

:

19:00 - 19:00

Where

:

CYA / DIKEMES Auditorium - Plateia Stadiou 5, Athens

Title:

CYA/DIKEMES Lecture Series - The Public As Stakeholder In The Development Of Elliniko

Email:

programs@dikemes.edu.gr

Contact Number:

210 7560-749

Website:

www.cyathens.org/