Perspectives: Athens In Transition - FokiaNou Art Space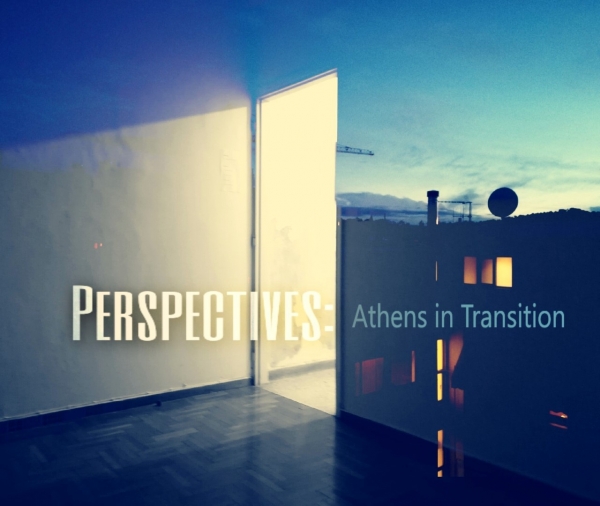 FokiaNou Art Space presents "Perspectives: Athens in Transition", an exhibition that shares various perceptions of Athens' rapid transition to a multicultural city. Once a homogeneous society, Athens has received an ever growing influx of immigrants in recent years, whether refugees from war-torn states or economic immigrants from elsewhere.

This change in the city's populace has brought a wide range of advantages and disadvantages, and is portrayed here in both abstract and literal representation. Artists who are migrants, refugees, ex-pats, and locals answered an open call to submit work reflecting their various perspectives and experiences, resulting in a body of work that includes drawing, painting, sculpture and video. This synergy of communities comprises 26 artists' work in various media, curated by Mary Cox and Panagiotis Voulgaris.


Participating artists: Lilia Agathou, Khatereh Ahmadi, Sofia Anna Angelopoulou, Yanos Bouzioukos, Mary Cox, Anna Deligianni, Eleni Gkinosati, Kornelios Grammenos, Wael Habbal, Fenia Iliadou, Stella Stephanie Keyrouz, Arlina Kotsifaki-Palamidi, Muhamad Nakam, Ilia Machaira, Mehrdad Mehrabpour, Katerina Psimmenou, Eleftheria Rapanaki, Marina Rovithi, Vangelis Savvas, Maaike Stutterheim, Ileana Theodoropoulou, Chloe Tsernovich, Anna Tsertsvadze, Antigone Valery, Panagiotis Voulgaris, Erwin Zareie


FoKiaNou Art Space is an artist-run project space in the intimacy of a small apartment in an old building in the center of Athens. The apartment has been transformed into an open space that encourages collaborative creative efforts between Greek and foreign artists, thereby promoting and supporting the local art community. The space hosts exhibitions, workshops and projects under the direction of two artists, Mary Cox and Panagiotis Voulgaris

Opening: Saturday, December 9th 2017, 18:00

Duration: 9 - 23 December, 2017 / Hours: Wednesday to Saturday, 17:00-20:00
LOCATION
EVENT INFO
When

:

09 Dec 2017 - 23 Dec 2017

Where

:

FokiaNou Art Space: Fokianou 24, 7th floor, Pagrati, Athens

Title:

Perspectives: Athens In Transition - FokiaNou Art Space

Email:

info@fokianou247.gr

Website:

www.fokianou247.gr/