Accidental Meeting - Stella Kapezanou & Louiza Vafiadaki | FokiaNou Art Space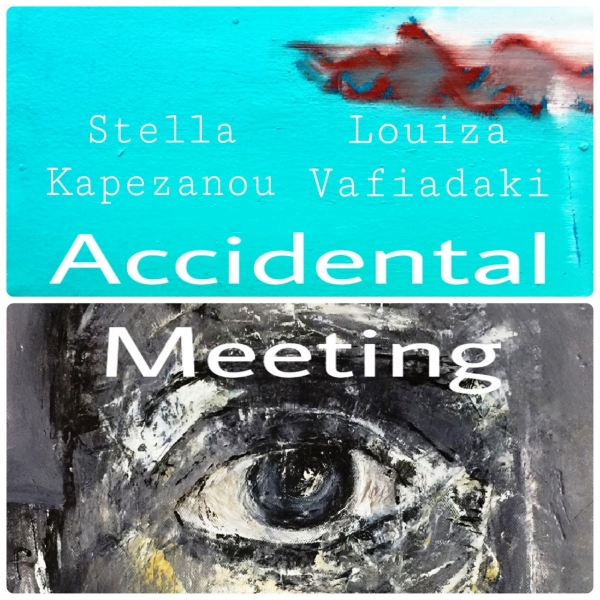 FokiaNou Art Space is pleased to present work by Louiza Vafiadaki and Stella Kapezanou, two figurative painters with expressive tendencies that visually excite. Stella Kapezanou takes a critical approach to aspects of everyday life in capitalistic societies, playing with reality in order to capture emotional states of people disconnected from their surroundings. Vafiadaki describes her paintings as individual excerpts from the human story of the quest for self knowledge, reflecting on her travels in Greece, Turkey, Italy, France and China.


Stella Kapezanou studied painting at the Athens School of Fine Arts and subsequently attended the Academy of Fine Arts in Munich. She also holds a Masters in Fine Arts from Chelsea College of the Arts, London, where she was awarded the Frank Bowling Scholarship. She is the recipient of the Clyde and Co Emerging Star Award, 2017. She has participated in numerous exhibitions in London and Athens since 2013. She lives and works in London and Athens.
www.stellakapezanou.com


Maria Louiza Ypatia Vafiadaki has been living and working in Athens since 1995. She graduated with honors from the Florence Academy of Fine Arts in 1993, and furthered her studies in engraving in Paris the same year. She leads creativity seminars for performers, parents and educators at the Hellenic Children's Museum, and is a founding member of the volunteer art performance group "The Special Child". She is represented by Agathi Art Gallery in Athens and has participated in numerous solo and group shows in Athens,Thessaloniki,Turkey and China.


FoKiaNou Art Space is an artist-run project space in the intimacy of a small apartment in an old building in the center of Athens. The apartment has been transformed into an open space that encourages collaborative creative efforts between Greek and foreign artists, thereby promoting and supporting the local art community. The space hosts exhibitions, workshops and projects under the direction of two artists, Mary Cox and Panagiotis Voulgaris.
LOCATION
EVENT INFO
When

:

15 Nov 2017 - 02 Dec 2017

Time

:

19:00 - 00:00

Where

:

FokiaNou Art Space, Fokianou 24, 7th floor, Pagrati, Athens

Title:

Accidental Meeting - Stella Kapezanou & Louiza Vafiadaki | FokiaNou Art Space

Email:

info@fokianou247.gr

Website:

www.fokianou247.gr