Photography Marathon In Athens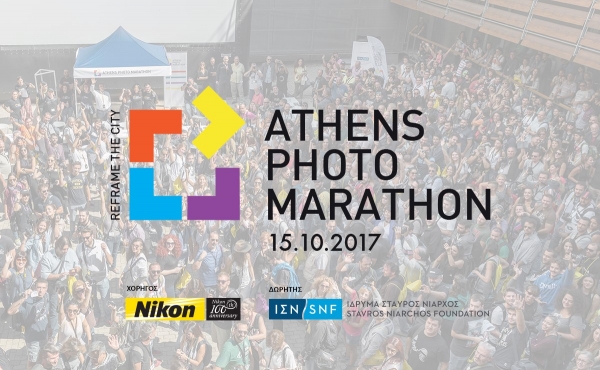 Athens Photo Marathon, the biggest photography contest in Greece, will be held on Sunday 15 October, 2017.


The event constitutes an original cultural initiative, with a competitive character, which seeks to stimulate both involvement in social issues and appreciation for photography.


Contestants using photography as a common language are encouraged to participate in a "photo marathon", to interact and to express themselves, by recording through their own lens and within six hours, four given subjects inspired by the urban life and its experience. Technical knowledge of the camera is not a prerequisite for participation, but inspiration and desire for creativity is!


Athens Photo Marathon is organised by the Hellenic Centre for Photography, in the framework of the Athens Photo Festival 2017, and is made possible with the support of our sponsor Nikon and our donor Stavros Niarchos Foundation.
The winners will nbe selected by a jury of experts and by the general public through online voting. Eight prizes will be awarded in total, and there will be also twelve honorable mentions.
The process in detail
:
Participants, having brought their own digital cameras, will meet at the event's starting point (Benaki Museum, Pireos St. Annexe) at 11.00 am.
Upon arrival, entrants will go to the reception desk, where they will receive their special accreditation card with their entrance number.
After that, participants gather for the announcement of the four subjects. Athens Photo Marathon 2017 will finish at 06:00 pm, with the participants' gathering at the finish point (Benaki Museum, Pireos St. Annexe), and their material submission to the Athens Photo Marathon 2017 working team.
Each entrant will address to the corresponding "receiving station" and hand over four photographs (one for each theme), which they select for submission into the competition segment of the event and which will be placed before the judgement of the committee, initially, and of the public afterwards.
Event Outline
:
11:00 Arrival at the starting point, where everyone will receive their individual participation package
11:45 Greeting and programme announcement
12:00 Announcement of the 4 themes – competition commencement
18:00 End of the competition, gathering at the finish point (Benaki Museum, Pireos St. Annexe)
Participants may register online at
HERE
!
LOCATION
EVENT INFO
When

:

15 Oct 2017

Time

:

11:00 - 11:00

Where

:

Benaki Museum, Pireos 138

Price

:

Free

Title:

Photography Marathon In Athens

Email:

contact@hcp.gr

Contact Number:

210 9211 751

Website:

en.photomarathon.gr/#home