A Picture Of Us - Sarah Ettlinger And Loula Levedi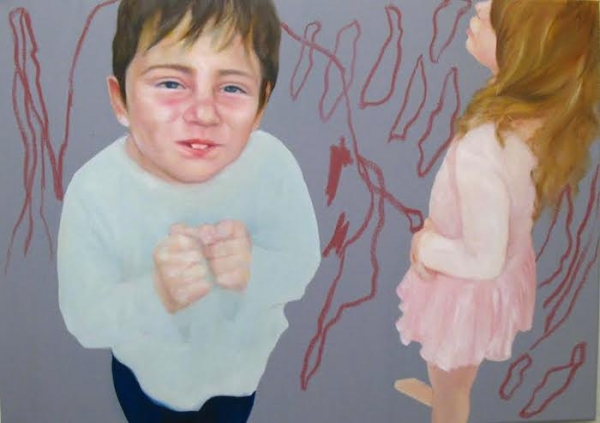 In a series of oil paintings made in 2002- 2008, Sarah Ettlinger explores the complex emotional relationship between child and parent. Using photographs taken by the artist of her children, Ettlinger shifts and changes the scale and perspective in her painting to create a world that both parallels the sense of wonder and innocence of the child, and at the same time suggests ways that we can make sense of the human image. The paintings focus on the face, reducing the body and limbs to a space behind the picture plane, creating a dreamlike spatial quality.


Similarly, Loula Levedi has developed a playful and experimental approach guided by the unconscious. Her process is a sort of "pop-up" ritual, where images surface from deep ruminations. Seemingly unrelated shapes and figures meet, creating visual puns. In her installation, entitled "Rebeated", a story takes shape through repetition of combinations of symbols. Her photographs merge the human figure passing through life stages with dreamlike landscapes, producing a hybridization of feeling.


Sarah Ettlinger
is a British artist living and working in Athens, Greece since 1991. She studied at Middlesex University, London and obtained a first class B.A Honors Degree at Liverpool School of Art and Design. She has exhibited in Greece, France, Ecuador and England and has organized and curated a number of collaborative artistic events in Athens.
Loula Levedi
is a freelance photographer, visual artist and designer. She has participated in many group exhibitions in Greece, Italy, England and New Zealand. She studied photography in Athens before receiving her MA in Art and Media Practice in 2005 from Westminster University in London and a Master in Graphic Arts & Creative Multimedia in 2014 from the Hellenic Open University, Patras, Greece.
FoKiaNou 24/7 is an artist-run project space in a small apartment in the center of Athens. The space is not a gallery; rather it is an activated apartment that encourages collaborative creative efforts and promotes community, while operating on a shoestring budget. Established in 2014, it is currently managed by Mary Cox and Panagiotis Voulgaris