The Beautiful Game…
by XpatAthens
Thursday, 05 February 2015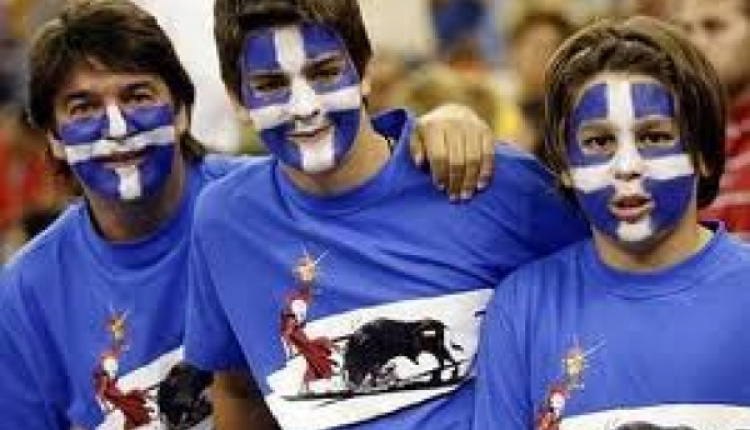 Soccer, football, the beautiful game. Whatever you call it, the world is clearly in World Cup fever. Well, the parts of the world where people paint their faces, wear their national flags as clothes and sing national anthems and national songs until they collapse in a frenzy of 'whoo-hoos'… you know, the fun parts of the world. Which, if we're honest, is most of the world. So World Cup fever also came to Athens.
And to New York, to Toronto, to Melbourne and apparently everyone else where there are Greeks communities. Social media is full of videos of enthusiastic Greek fans absolutely overflowing with excitement and pride. And probably lots of beer.
Speaking with Dutch, Argentinean, Swiss, even Costa Rican friends, it seems the spirit of friendly (and very serious) competition is alive and well no matter which flag you fly – and it's all in the name of the beautiful game. And I think that's great.
I was watching the Greece/Costa Rica match at a friend's place on Sunday. When the game when into overtime, someone said, "We should be watching this from a bar." The rest of us agreed. When the overtime stretched into penalties, we jumped off the couch and raced outside to the nearest café. The place was packed with excited fans, chattering and cheering. The energy was palpable. After each successive score, the cheers got louder… The result was heart breaking, but the pride of achievement remained.
There is something awesome about joining together with random strangers to celebrate 'us', that elusive feeling that comes when 'one of our own' is striving, against the odds, and succeeding – on our behalf. When the Greek players requested that their FIFA bonuses be donated to build a home for the national team in Athens, it only served to boost the feeling.
So, this week was mostly about national pride (the best kind, based on achievement), celebrating the underdog, and cheering to our hearts' content. The eventual result was less important than the virtual bond shared by everyone waving a blue and white flag, wherever they might be in the world. There was a great image shared during the Costa Rica game, of a (non-Greek?) fan with the words 'Vamos Grecia!' painted in blue across her forehead. What could be better?
Until next week,
Jack
In this weekly space, keep up with 'Jack' as he navigates daily life in Athens… Anecdotes, stories, hits & misses, the good, the bad and, well, the rest…