A Different Kind Of Tour
by XpatAthens
Thursday, 05 February 2015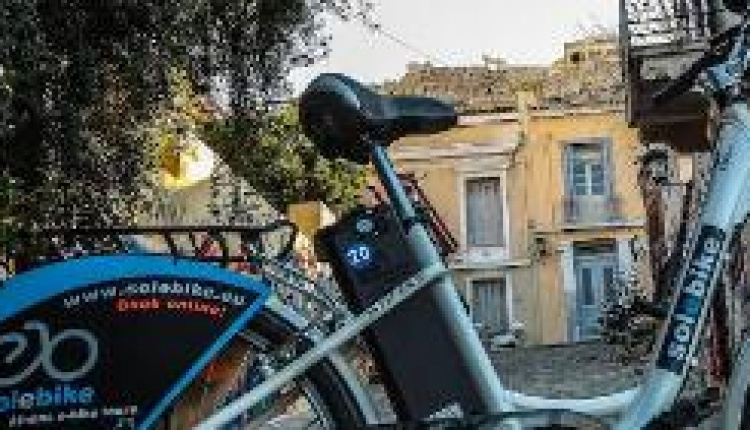 The other day I was invited by some friends to do something different – a "tour of Athens", they said, "but not a regular tour."  Sure, why not. We met at Acropolis Metro Station, and walked down Lempesi Street to a little shop with bicycles outside. But these weren't ordinary bikes. I soon learned these are called e-bikes. On an e-bike there is a rechargeable electric motor that gives you a boost while pedaling.  What does this mean? Cycling with no effort!
SoleBike is a start-up that provides 'curated' tours of Athens. These are specially designed routes within the historic centre, narrated with interesting stories by the tour leader. Everyone wears a helmet with a 'hifi' receiver in one ear – so you can hear the leader and hear the traffic!
We had a very nice ride through the historical centre of Athens (Plaka, Thiseio, Keramikos, etc.), and we (all 6 of us) loved it. We know Athens really well, but our guide took us on a nice route and into some streets that we didn't know at all. And all the while with some great commentary and interesting stories of the sites we were seeing.
The e-bike is perfect for Athens.  The hills, the heat, the great effort of it all: no problem for an e-bike. And by the way, you can buy these e-bikes too. What an interesting replacement for your car… Charge it up and off you go.
I'm an avid cyclist, so I'm quite used to riding in Athens. But for those who think that riding a bike in Athens is a bad idea, it turns out it can be a great idea, especially with some well-planned and carefully designed routes. We were in car-free zones for the entire tour, and felt more than safe. If you want to get a flavour of Athens without hiking around the city (and without breaking a sweat), I highly recommend.
Afterwards we wandered around the corner onto Porinou Street and happened upon Hitchcocktales – a bar/restaurant/café that may just become a favourite. A beautifully restored interior with some gorgeous design touches – friendly service, cool atmosphere and it sounds like some fun weekend parties. I will go back.
Now if they could only invent an electric motor boost to get me out of bed in the morning…
SoleBike
Lempesi 11
+30 210 92 15 620
http://www.solebike.eu/
 
Hitchcocktales
Porinou 10
http://www.hitchcocktales.com/
https://www.facebook.com/hitchcocktales
Until next week,
Jack
In this weekly space, keep up with 'Jack' as he navigates daily life in Athens… Anecdotes, stories, hits & misses, the good, the bad and, well, the rest…