Co-Working Is The Innovation That HR Can't Afford To Ignore
by XpatAthens
Friday, 27 September 2019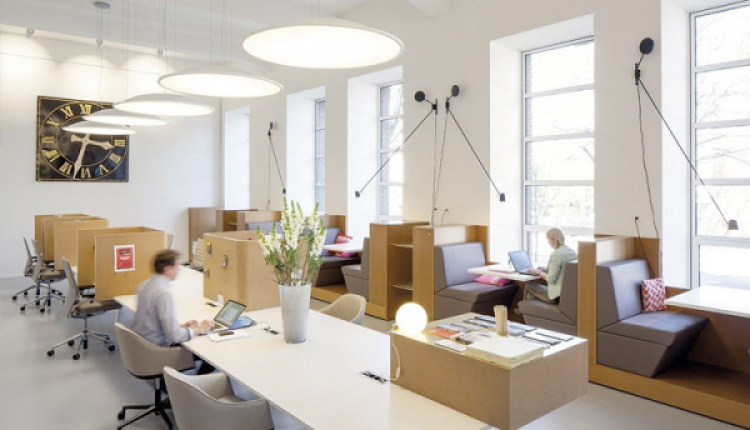 The great skill in human resources is having a sixth sense for how people want to work. It takes a certain amount of clairvoyance to know what the talent of today is thinking – how, where and why they want to turn up to the office.


In today's world, the increasingly apparent truth is that employees value flexibility, convenience and vibrancy – all great benefits of moving to a co-working space.


"The war on talent is really in full force," says Sharon Edmondson, IWG Vice President of Human Resources – Americas & Global LSCs. "To be competitive, you have to be able to offer more to your employees than just competitive compensation and benefits. People are wanting more of a sense of community and vibe, to be able to find more to connect to than just the job role itself."


Employees who are considering a change of employer, then, are looking at a much wider range of considerations than salary alone. And rewarding that desire quickly feeds back into productivity.


"If you've got segregated employees sitting in remote spots, or working from home," adds Edmondson, "then that isolation leads to drops in both productivity and engagement. What I love in IWG spaces is that you start to see employees from all different companies eating together or grabbing a coffee. You start to leverage the benefits of other employers to build that community and brand within your own organization."


Employees increasingly want to be in a flexible, lively, dynamic environment. It's no secret that a trusted, engaged employee is a productive one. In the 2019 IWG Global Workplace Survey, 85% of employers confirmed that productivity had improved as a result of greater flexibility.
---

---
"Employees want to go to an environment that's lively and vivacious and drives energy and change," says Edmondson. "People want the ability to collaborate and the ability to get stretched beyond where they are. We're living in a society where people want to continue to learn and grow. If you're not feeding the employees, then that tends to reduce productivity and talent retention."


"If you don't have that kind of space to offer, then you're really missing out on driving the most out of your workforce and gaining that engagement and productivity, which in turn creates innovation, and ultimately ties directly into revenue and profitability for the organization."


Another crucial factor is geography. Offices with huge, city-center headquarters that pull employees from miles around are forcing many of those workers to endure long, thankless commutes, which are not only environmentally unfriendly but also ultimately a chunk of personal time they can't get back. "People won't want to commute so far," says Edmondson. "You risk losing employees, and you also lose a ton of productivity time because employees are spending that time commuting." Co-working spaces closer to where workers actually live can give them the professional setting of the office, keep their work and productivity up – and extra free time each day.


There's also the consideration that the work/life balance doesn't have to refer to being at work vs being at home – perhaps if work was that bit more vibrant, it wouldn't be such a necessary contrast. As Edmondson says: "Through leveraging the benefits of a co-working environment, work doesn't seem like work all the time. If you have a frustrating moment, you're able to go and catch a break, to go up to the patio rooftop terrace and play a game of ping-pong – something your traditional employment spaces don't offer."


When it comes to the value of flexible working to employees, the results are in. In IWG's survey, over 80% of respondents said that if faced with two similar job prospects they would turn down the one that didn't offer flexible working.


And what if HR doesn't catch up? "The reality is you'll miss out on having the ability to stay competitive in terms of talent. Certainly, from an attrition and engagement perspective, there's no doubt that will start to impact potential employees and the organization as a whole."

Can you afford to lose out? Find out more about how co-working can work for your company.
This content has been sponsored by IWG - an XpatAthens Brand Partner.