A Funny, Upbeat Greek Song About Staying Home!
by XpatAthens
Tuesday, 02 February 2021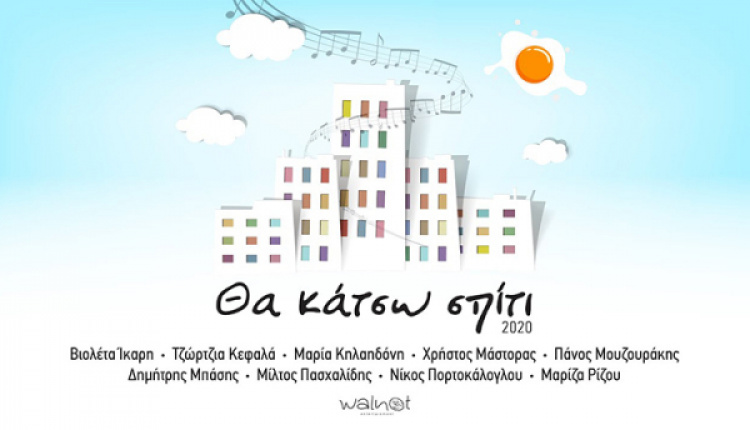 From March till May 2020, and from November 2020 until now, we have been spending lots of time indoors due to the COVID 19-related lockdowns in Greece.

Staying at home is very important given the current circumstances, but it doesn't have to feel dull. We would like to introduce you to a funny and upbeat Greek song about – what else? – staying home and relaxing!

Even though the song Θα Κάτσω Σπίτι (Tha Katso Spiti – I'll Stay At Home) dates back to 1986, nowadays it feels more relevant than ever. The song was originally written and performed by Greek singer-songwriter Loukianos Kilaidonis, while the version you will listen to here is a remake sung by numerous contemporary Greek singers (order of appearance): Violeta Ikari, Giorgia Kefala, Maria Kilaidoni, Christos Mastoras, Panos Mouzourakis, Dimitris Basis, Miltos Pashalidis, Nikos Portokaloglou, and Mariza Rizou.
---
It's a well-meaning initiative to spread the message that people need to stay home (#menoumespiti) whilst looking at the bright side: staying safe and healthy, maintaining a positive attitude, and making the most of these days spent indoors.
Click
here
to listen to the new cover of Θα Κάτσω Σπίτι (I Will Stay home) and sing along!
To read the lyrics in Greek, as well as the English translation, click
here
.
Omilo Greek Language and Culture inspires people from all over the world to learn Greek, while exploring Greece. They offer 1- and 2-week courses for adults that combine beautiful course locations, experienced teachers, and a balanced combination of Greek classes with cultural activities. All these make Omilo a place where people enjoy learning modern Greek and have fun.

Besides the courses, Omilo also creates online publications to help adults expand their language skills through Language Books and eBooks for different language levels.