Urban Culture Enthusiast – Athens Corona Nomads Series
by XpatAthens
Thursday, 28 January 2021
Some call them digital nomads. To others, they are corona refugees or lockdown migrants. In a time where remote-working is king, Athens has become one of the
hottest tickets in Europe
to ride out the epidemic and hit reset on life.
This is Athens asked some second wave "corona nomads" to tell us in their own words how Athens has given them the personal and professional lift they were craving and why life is so much sweeter in the Greek capital, even in lockdown.
Chasing A Bright Urban Culture
Letizia Sebregondi, 36, Italian
Digital Wine Consultant
I was in Athens for two months last summer, staying in Mets, near the Kallimarmaro Stadium, and loved it so much. I went back to Milan a bit sad and spent the next month or so wondering, "Should I go back?". One day, I woke up and said, "I'm going!". I returned in late October, two weeks before the second lockdown, and plan to stay until July. Then I'll travel around the Peloponnese and the islands.
I've lived abroad a lot: Brazil, the United States, France. What I find amazing about Athens is that it's an urban city but you can still feel a human touch. Even if it's not always an easy city, it has a really strong identity that connects you with Greek culture. But on the other hand, there are many young people relocating from Europe, even more so now because of Covid, so there's this feeling that things are changing. People are coming to Athens to enjoy the exciting energy here.
I come from Florence, but was based in Milan, doing digital marketing for Italian and French wines; helping to create wine clubs and collectives. I still have a lot to learn about the Greek wine scene but I do see great potential in terms of the quality of the production and opportunities for local wineries to develop their sales. I've been pleasantly surprised at how good Greek wines are. I've discovered a wonderful wine bar in the city centre that focuses exclusively on Greek wines - Heteroclito – and I tried some really good value wines from the north of Greece there, including a well-balanced Assyrtiko from Ktima Voyatsi. I can't wait to go back there when quarantine is over.
---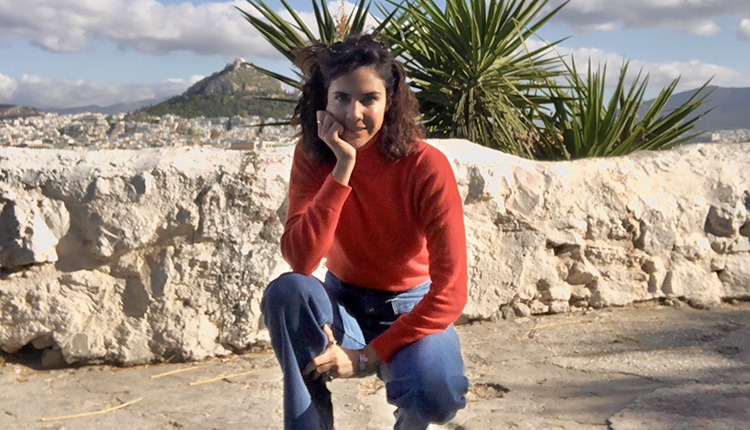 ---
Milan is probably the most European city in Italy, but it's somehow too classic; a little too buttoned up, compared to Athens. Athens to me has a young and vibrant spirit, with a laid back quality of life - like maybe Lisbon ten years ago. I'm not saying that everyone here can afford everything, but compared to many other cities in Europe, the urban culture feels fresh and the quality of life is amazing.
So far, the experience of remote-working in Athens has been easy. Athens is an open-hearted city. I made some good friends during the summer: foreign girls like me who all share the same love and appetite for the city. This has helped me feel at home. Every Friday, I go to the farmer's markets in Koukaki, next to my favourite bakery ever, Mama Psomi in Zaharitsa Street, for their amazing hand-made pies. At the markets, I pick up delicious local honey and have become friends with the fishmongers and the ladies who sell the lovely lemons and capers that I like to cook with. I've even managed to get to the seaside a few times during lockdown by walking up through Neos Kosmos to Paleo Faliro.
There's so much more light in my working day here than in Milan. My apartment in Koukaki has a small balcony with a spectacular view of the Acropolis and gets the sun most of the day. I take my laptop out there to work and enjoy the 360 degree view of the city and the seaside. It's a luxury that makes me feel so happy every day.
To read more, please visit
This is Athens
---
Whether you've just arrived in town – or have been here for years – Athens always has new secrets to share!


This is Athens
is the official guide to this captivating city of ancient energies and booming urban culture. Compiled by a team of specialist local writers, This is Athens brings you an authentic and intimate portrait of a living Athens beyond the guidebooks – along with daily curated listings of all the best events and great weekend inspiration all-year round. From must-know neighbourhoods and emerging art hubs, to gourmet hotspots, cool shopping and the buzziest bars, This is Athens will help you to get the most out of living in Athens!

Thank you This is Athens for your contribution as an
XpatAthens Partner
.