Beach-Loving Fashion Expert – Athens Corona Nomads Series
by XpatAthens
Wednesday, 27 January 2021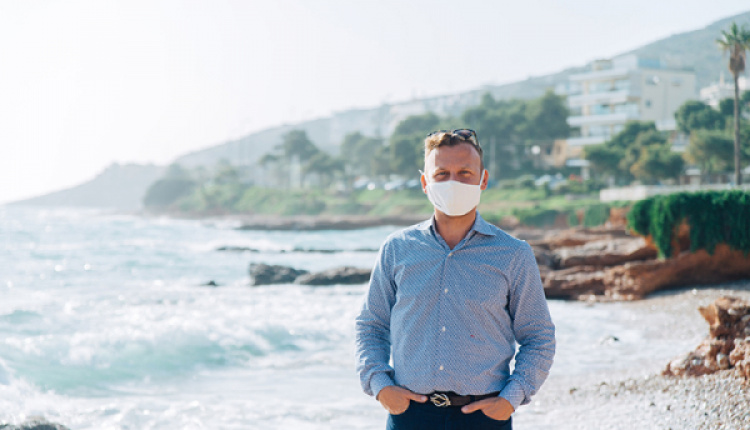 Some call them digital nomads. To others, they are corona refugees or lockdown migrants. In a time where remote-working is king, Athens has become one of the
hottest tickets in Europe
to ride out the epidemic and hit reset on life.
This is Athens asked some second wave "corona nomads" to tell us in their own words how Athens has given them the personal and professional lift they were craving and why life is so much sweeter in the Greek capital, even in lockdown.
A Fashionable Life On The Athens Riviera
Burak Cakmak, 46, Turkish
Global Fashion Executive for Kering (Gucci Group), Swarovski, Gap Inc.
I'd been living between London and New York when I came to stay with a Greek friend in Varkiza one summer. That's how I discovered the Athens Riviera. I decided it would be a great spot to have a place along the Mediterranean coast. When I factored in the affordability, culture and hospitality I'd enjoyed in Athens, it struck me as a smart city to invest in. The minute travel started opening up again last June, Greece felt like the best place to be. I was able to return to finalise the purchase of an apartment right near the Varkiza esplanade, about half a block from Yabanaki beach.
London wasn't doing very well with Covid, and with my tenure as Dean of Fashion at Parsons School of Design in New York officially finishing, there was no reason to be back in NY. I was building mini-businesses and already doing everything remotely so it made sense to stay and enjoy the extended summer here. I convinced my London business partner to come over too and she's now renting nearby in Vouliagmeni. My life partner is originally from Crete so it's wonderful to have a place together in Athens now. Over summer, the restrictions weren't too tough and it was an exciting time. On weekends, the place was abuzz with Athenians coming down to enjoy the beaches and hardly any tourists.
---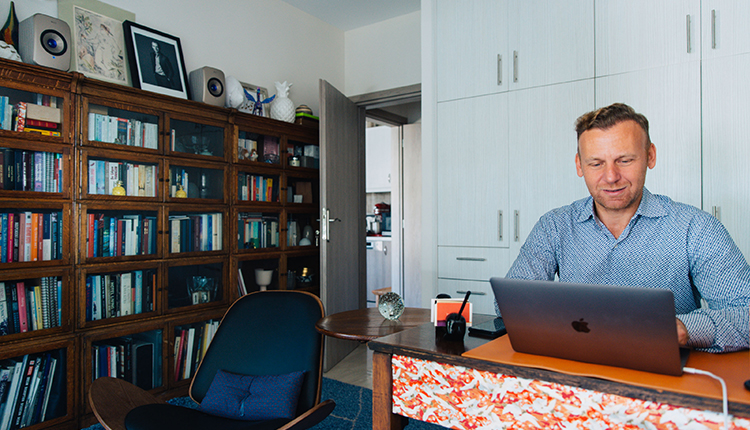 Photos: Thomas Gravanis
---
I would wake up every day and put on my swimsuit. I wouldn't even take a towel with me. I would just walk across the street, jump in the water for half an hour and then drip dry on my way back home, before starting work. It was perfect. To be able to do that in a big city is incredible to me. And when I want to feel the "real Athens" atmosphere, the city is just a 25-minute drive away. I was able to attend events like the Athens Democracy Forum in late September, and reach out to creative local fashion brands. Athens is a great city for being able to mix business and pleasure.
It's unbelievable what you can do sitting in your own house around the world now. Currently I'm building a digital fashion education platform with two partners whom I've never met in person—both British nomads—one lives in Portugal, the other in Brussels. I've turned one of our bedrooms into my study and ordered new equipment for digital recordings. It's easier to be in your own place rather than a co-working space or office. You have more control over your environment and don't have to worry about masks.
The Athens Riviera is incredible because the weather is around 15-18 degrees in winter and most days it's sunny. It's not that crowded, so you can find peace within yourself.
The crazy thing is I never planned to be in Athens full-time. I just wanted to spend the summer here because everything everywhere else was shut down. But when I returned to London briefly, I soon realised that the lifestyle here was so much better during a pandemic. I don't see any reason to leave now. Is lockdown better in Athens? One hundred percent.
To read more, please visit This is Athens
---
Whether you've just arrived in town – or have been here for years – Athens always has new secrets to share!


This is Athens
is the official guide to this captivating city of ancient energies and booming urban culture. Compiled by a team of specialist local writers, This is Athens brings you an authentic and intimate portrait of a living Athens beyond the guidebooks – along with daily curated listings of all the best events and great weekend inspiration all-year round. From must-know neighbourhoods and emerging art hubs, to gourmet hotspots, cool shopping and the buzziest bars, This is Athens will help you to get the most out of living in Athens!

Thank you This is Athens for your contribution as an
XpatAthens Partner
.