A Little Taste Of Home - Meet Ahmad Alssaleh
by XpatAthens
Tuesday, 11 July 2017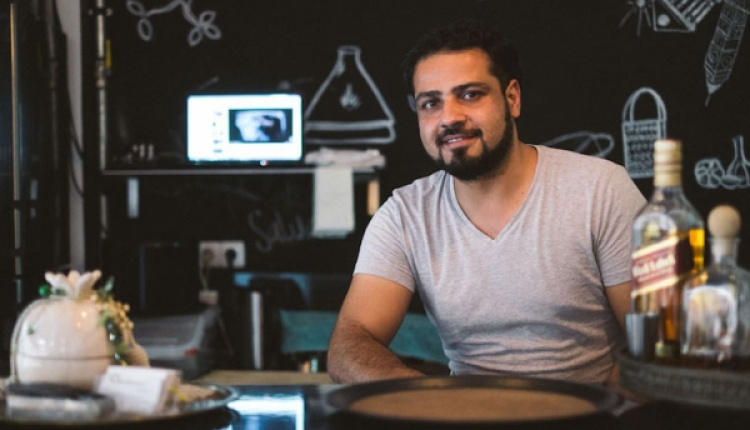 Meet Ahmad Alssaleh from Palmyra, Syria. Although he is only 31 and the youngest of ten children, he is not only unstoppable, he is about to celebrate the first anniversary of one of the most imaginative and best restaurants
Culinary Backstreets
has ever been to anywhere – not just Athens. His restaurant is called
A Little Taste Of Home.
It all started back in 2009 when Alssaleh met Magda, a Greek girl who'd gone to Syria as a tourist. In those days he had been working in tourism himself, organizing "camping safaris" into the desert around the ruins of Palmyra on camelback and horseback and cooking traditional food for his groups. He was extremely successful and is even mentioned in foreign blogs about those happier days.


But happy as they were to be together, finding a job proved impossible in those early years of the "crisis," and it took 18 months to get a residence permit.


"By now I had a little money, and I went to Poland, where a friend had a hostel for sale, but that didn't work out. So instead I bought a five-room apartment near Omonia and rented it to refugees. This was when the border with Macedonia closed, and there was a housing shortage. All this time I wanted to open a café with Syrian snacks. Monastiraki was too expensive, but this place [in Gazi] was empty and affordable. Again it took many months to get the permit, and I needed more money to fix it up. My brother had an idea. He was among the refugees stuck at Idomeni, and he said, 'Why don't you bring up some bread from Athens? We can't eat what they give us.'


To read the rest of Alssaleh's inspiring story, please visit:
Culinary Backstreets
Photo Credit: Manteau Stam for Culinary Backstreets