Travel Bloggers Greece Share Their Blogging Secrets
by XpatAthens
Wednesday, 12 October 2016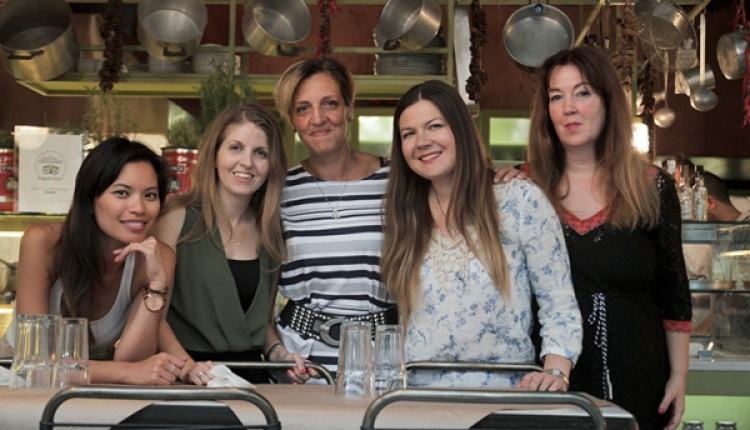 Travel Bloggers Greece
is a network of travel bloggers who write about their travel experiences in Greece and other countries, as well as their expat life mostly in Greece. Greek TV reporter, Kyriaki Iatropouli met Marissa Tejada, Elena Sergeeva, Chrysoula Manika and Amber Charmei, in Lesvos during one of their trips as a group. These four women have created a network, working together, sharing their experiences, and learning from each other. Iatropouli met them again in Athens at Mana's Kouzina-Kouzina restaurant and there they talked about their blogs, the network and their travelling experiences. New member Gabi Ancarola was also there.
Marissa came to Greece initially with her first husband. It didn't work out, but she decided to stay in Greece.


"I was going to stay for the summer and that was six years ago! So, I'm still here, I still love life here, I'm remarried, and I'm Greek!" she says. She started her blog My Greece, My Travels four years ago as an experiment out of her love for travelling and writing. She's a journalist, corporate writer, travel blogger and novelist. She published her first book
"Chasing Athens"
two years ago. It's a romantic comedy novel that takes place in Greece. "I hope to write another book 'cause Greece inspires me," she says, while the rest cheer and encourage her!
Elena's family moved to Athens when she was a child. At first, it was only for a few years, but finally they made Greece their permanent home.


"So basically I'm Greek now!" she says. She started her first blog in 2009, but she discovered the power of blogging and social media in 2011, while writing her dissertation for her master's degree. She has a few blogs, under the "Passion for" concept. She is a passionate, young, full of energy and ideas woman. I ask her how she came up with this concept. "I was in a flight from New York and in the plane I was watching 'Steve Jobs' movie. When he said 'I don't wanna work for anybody else' the idea of 'Passion for Greece' was born. I said 'If the domain is available, then it's destiny!' So, I came in Athens, I searched and I bought a couple of domains. I started with Passion for Greece two years ago, my next chapter is 'Passion for Dubai' and I have more 'Passions' coming out."


Chrysoula is the only one in the group born and raised in Greece. She studied tourism but she works in the marketing team of a newspaper. She started her blog Travel Passionate because her friends saw her passion and encouraged her.

"Because I love travelling and organizing trips I give advice to my friends on travelling. They encouraged me to have a blog and write about it so I decided to start a blog about Greece, where I give advice to people who want to visit, on where to go, what to do, where to eat and drink, everything…" She hopes to make it her profession in the future.


Gabi is the only one not living in Athens at the moment, but she's planning to. She lives in Italy, where she used to be a translator for tourism, until she decided to start writing and have her own voice. She now writes on her blog The Tiny Book about her passion, which is travelling with her children. She educates them on the road.

"I try to teach them how the world works by actually seeing the world and not by reading it in books. So I combine a lot of things and I teach the world on a plane, on a bus, on a train to my kids and that's what I love the most." She also works on a project about Greece through tourism books and travel guides for the Italian market, trying to promote Greece in Italy.


Amber came to Greece 17 years old in search for the sense of community she missed from New York city, when it became so big.


"Where I grew up in Manhattan I knew the guy who made the mozzarella cheese, I knew the guy who made the bread, I knew the guy who made the sausage, I knew everybody. And I missed that kind of life. I missed that community and that connection. So, when I had the opportunity to move here [in Greece], I came in search of that: something urban but sweeter, something a little more authentic." She started writing on her blog, Provocolate, mainly about food until she met the other members of TBG. "Now I write a lot more about things that make life real, authentic, special." It seems that in Greece Amber found what she was looking for. She adds, "Something we all like about Greece very much is that it embodies values, too. I think that's what drives people here, it's not just that it's beautiful, it's not just that the food is delicious, but that it's coming from a place very real. So I hope to try to capture that and share it as much as possible."


To read this article in full, please visit:
Greek TV