At The Captain's Table: The Restaurant Helping Refugees
by XpatAthens
Wednesday, 21 October 2015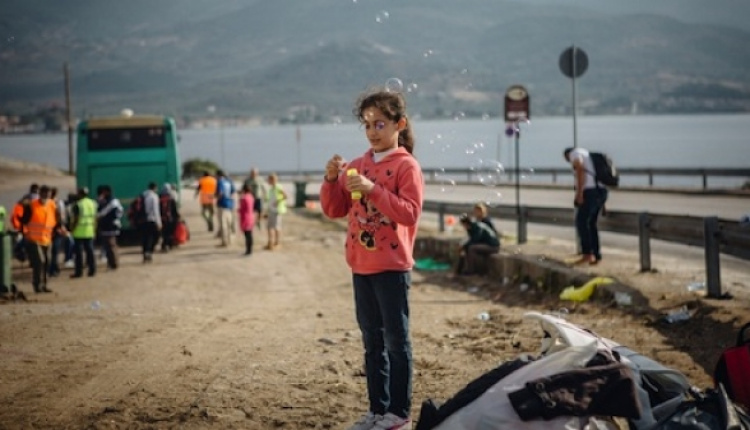 A harbour-side restaurant and its tenacious owner have become a beacon of hope for refugees landing on Lesbos.


Molyvos, Greece - "It feels sometimes like I'm doing the job of the UNHCR," Melinda McRostie says with a smile. The restaurant owner is pacing up and down the kitchen of The Captain's Table, her seaside restaurant in the town of Molyvos, on the Greek island of Lesbos.


"Especially when they're phoning me up, asking me to send one of our volunteers down to their office to register refugees - like they did today," she continues, pausing for a moment, as though taking in the absurdity of the situation.


Over last year, McRostie, an Australian who moved to Greece with her family at the age of three, has found herself thrust into the centre of Europe's refugee crisis.


For the upwards of 3,000 refugees arriving on Lesbos each day - disembarking from overcrowded plastic dinghies after their short but perilous trek across the Aegean Sea from Turkey - McRostie's restaurant, nestled beside the habour, has become a beacon of hope.


In November 2014, she began to offer more than just emotional support; setting up an organisation to provide practical assistance.


One year later, her organisation, Asterias (the Greek word for Starfish) has a volunteer force of 40 and has helped shelter, clothe, and feed more than 90,000 refugees. McRostie has even created two basic refugee camps in the north of the island - all without any significant help from an established aid organisation.


"The boats were coming in; people were distressed, some in trauma because of other refugees drowning. I had to help," she says.


McRostie never seems to stand still, and multi-tasking has become her norm. She uses one hand to make pesto, "It's especially good when the nuts are still crunchy," she enthuses, while the other holds the phone via which she arranges for that day's influx of refugees to be settled into the make-shift refugee camps. It's an unusual juxtaposition, but one that McRostie thrives on.


Young volunteers from Holland, Sweden, and Denmark mill around the restaurant-turned-office: some taking phone calls, others with their eyes fixed on computer screens, undertaking administrative tasks for the fledgling refugee organisation.


"She's incredible," says Filip Valentmadse, a 20-year-old Danish volunteer, when asked about McRostie. "She's taking phone calls every second, running everything."


Valentmadse jokes that McRostie is like a mother to the volunteers under her command, as well as to the thousands of refugees who have passed through the island, not to mention "her actual kids", he adds laughing.


by Matthew Vickery