Culture + Cool
by XpatAthens
Tuesday, 17 February 2015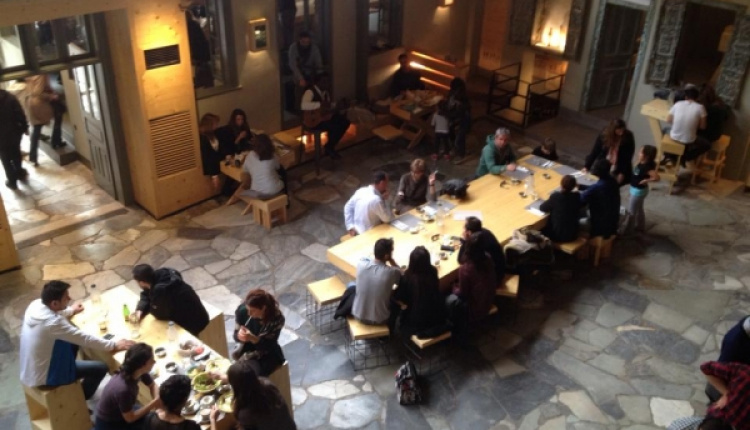 Those of you who know the Thiseio neighbourhood may have wondered lately what happened to the old Stavlos bar at the top end of Iraklidon street. It had been a neighborhood staple for years, but lately lost some of its popularity – and over the past months was closed down completely. The space has since been completely gutted and transformed into a wide-open, airy, multi-function space called Root Artspace.
I went by accident on Sunday afternoon – the open door and warm noise coming out of the small door made me wonder what was going on inside… There was plenty going on!
The original building dates from 1845 when it housed the horse stables of King Otto. It later became a prison, and then a school, until the late 1980's when it as transformed into the well-loved Stavlos bar. (This seems to be a not-so-unusual story for some of Greece's historic properties – don't they all become a bar at some point??)
On my unplanned Sunday visit, the place was buzzing with activity. A few questions to the barista got me some interesting answers about the Root Artspace concept.
This place has a grand vision. The venue will host performances, exhibitions and festivals. The restaurant offers up an urban street food menu based around organic and 'paleo' principals. The bar – called a 'wellness bar' – offers a range of healthy cocktails, some even sugar-free and gluten-free. And there is an actual record store (of the vinyl type) inside the space. The day I went they had a live band playing jazzy/blues music. And the service was very friendly (warm smiles and thank-yous all around).
This is seriously forward-looking stuff for Athens.
I have to say that this may be my new favourite place. The multi-room space itself is more than cool – it's incredible. The menu and drink list is unique in the city. The music is eclectic. Good service, great vibe. With enough creativity to make it seriously interesting. And enough 'urban attitude' to make it very Athenian indeed.
Root Artspace
Iraklidon 10, Thiseio
+30 210 345 0003
www.rootartspace.gr
Until next week,
Jack

In this weekly space, keep up with 'Jack' as he navigates daily life in Athens… Anecdotes, stories, hits & misses, the good, the bad and, well, the rest…