The Holy Goat Of Petralona
by XpatAthens
Thursday, 05 February 2015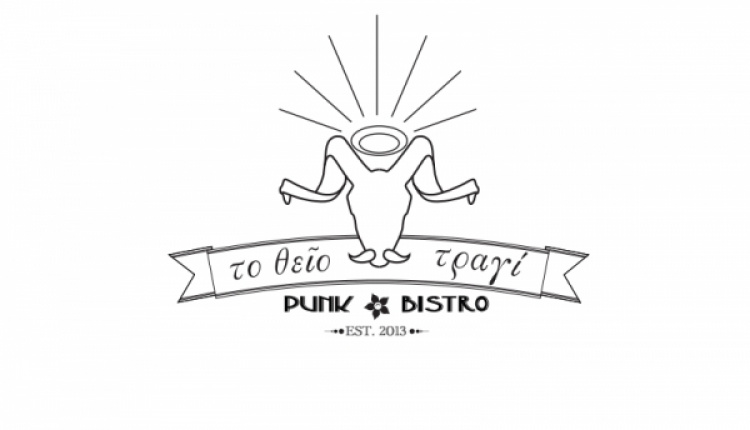 Petralona is a popular city-centre neighbourhood that has enjoyed a soft resurgence in recent months, with new bar and restaurant openings and a 'breath of fresh air' feeling on its well-trodden streets. Located in the city-centre, between Thiseio and Kalithea, Petralona is young and hip, but also manages to remain a real neighbourhood, where locals knows each other and people still say 'kalimera!' on the street.
Petralona has an abundance of well-known, lesser-known and always easy-to-like places for food and fun. From French cuisine at Chez Lucien (Troon 32), to Thai at Andaman (Peiraios 187 & Alopis 65), to drinks at the industrial-chic Lola (Kiriadon 11), Petralona does not disappoint.
On Saturday night I went for dinner to 'The Holy Goat' (Το Θείο Τραγί). I had heard of this place, both through a friend and through a couple of different online reviews. The feedback was so great that I had to see for myself. I can happily add my confirmation that this self-styled 'punk bistro' is a truly refreshing addition to the Athens food scene. 
We arrived at 9:00pm, without a reservation, to a packed house - so we took a seat at one of the bar tables.  There was a great vibe, friendly banter, eclectic music (alt/rock, but really not too loud). The space is divided into a dining room and a bar area. For space in the dining room, book ahead. The design is modern, wooden and warm, and the vibe is casual and energized. It's a feel-good place. 
But the food. Easily some of the most interesting gourmet creations I've had in Athens. Seriously. Carefully crafted dishes that bring out a 'wow.' at every bite. Add to that a great wine list with interesting Greek selections, and super cocktail inventions - the entire menu feels 'curated' for a discerning, eclectic palate.
The price point is also a nice surprise, given the high-minded nature of the menu. Starters around €6-7, mains around €12-14.  Various wines on the list - with a single glass at €3. Imagine: orzo with sea urchin eggs, bacon, seaweed. I dare you not to like it.
Granted, you will not go here after a 3-day fast to gorge on kebabs. This is no taverna; this is decidedly gourmet. You will go here when your palate is demanding something more refined, more under-stated, more civilized. Living in Athens, those three things have become quite important to me. And as high-minded as the food is, the place itself is so very Athenian - zero attitude, relaxed and fun.
So yes, you are still in Athens. Smoking is allowed at the bar, and if you stay well past 1:00am as we did, you will enjoy an eclectic variety of second-hand smoke... So be warned.  And they do not accept credit cards. But on every other count, this could easily be a cool night out in San Francisco or Toronto.
Will definitely go back.
The Holy Goat / To Theio Tragi
Kidantidon 36, Athens (Ano Petralona)
(+30) 210 341 0296
www.facebook.com/totheiotragi.gr
Until next week,
Jack
In this weekly space, keep up with 'Jack' as he navigates daily life in Athens… Anecdotes, stories, hits & misses, the good, the bad and, well, the rest…