Athens: Mother Of All Cities
by XpatAthens
Thursday, 05 February 2015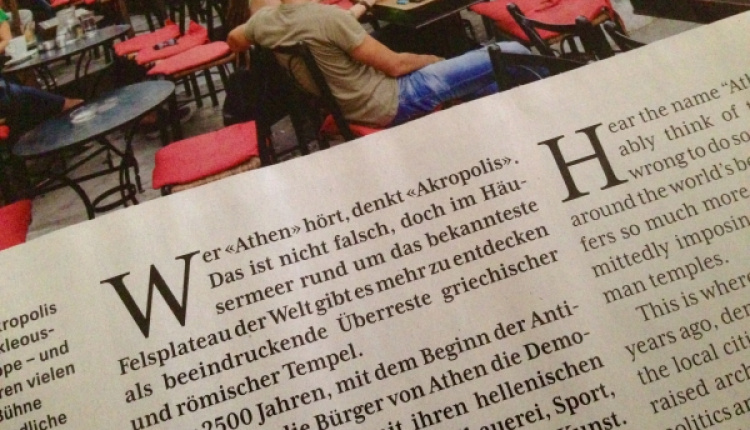 It's always interesting to hear what other people think of Athens, especially those who aren't from here or those who have been here only a short time. The truth is that perspective is everything, and other points of view often give us the best perspective on our own lives.
So it was with great interest that I picked up a copy of the in-flight magazine of Swiss airways on a recent work trip. The headline: 'Athens: Mother of all cities'
Clearly these articles are written to entice travellers to visit this lucrative Swiss airways destination. They are marketing pieces. But what exactly would a Swiss author see as enticing about Athens?
I'm going to re-write a few key phrases from the piece here - and hope that this isn't breaking any laws! The full article can be seen linked below...
According to Swiss, 'The Athenians virtually invented urban life, and we can still learn from them today'.  They say that Athens remains a model of urbanity. Because the 'warm climate and the friendliness of the locals make make Athens a place where life spills out of the homes, shops and thousands of bars and restaurants and onto the streets, however narrow they may be. Because it's a city that buzzes almost around the clock. And because a new generation has taken the recent crises as a chance to reaffirm, with almost Olympian zeal, the great Greek triumphs of the past: hospitality, culinary variety, strong coffee and fine wine!'
They mention the places that we all know – Plaka, Psirri, National Gardens, rooftop restaurants, bars, and obviously the acropolis.
In an interview with Ted Lelekas (telegourmet.org), he answers the question 'Why Athens?'  His answer: The nightlife. The sensuality. The friendliness. The wine.
I'd say they pretty much 'got it'. Athens is all of that, and it's not just 'marketing puff' to say so.
Until next week,
Jack
Swiss Magazine (Athens, November 2014):
http://www.swiss.com/CMSContent/web/SiteCollectionDocuments/SWISS-Magazine/2014/SWISS-Magazine-November.pdf
Interview with Ted Lelekas: http://www.swiss.com/CMSContent/web/SiteCollectionDocuments/SWISS-Magazine/2014/SWISS-Magazine-November-Talk.pdf
Check out the Swiss City Guide for Athens here: http://www.swiss.com/CMSContent/web/SiteCollectionDocuments/SWISS-Magazine/2014/SWISS-Magazine-November-City-Guide.pdf

 
In this weekly space, keep up with 'Jack' as he navigates daily life in Athens… Anecdotes, stories, hits & misses, the good, the bad and, well, the rest…