Outdoor Autumn Nights
by XpatAthens
Thursday, 05 February 2015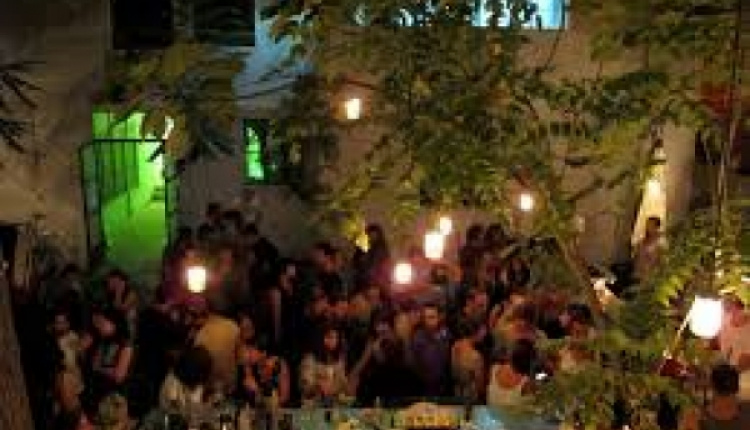 The past weeks have been more like my weeks 'not' in Athens! I've been away with work quite a bit – which is nice when you think about it, but less nice when you actually do it… I love to get away from time to time – and I do love to come home!
Returning late Friday night meant I was ready for a fun night out on Saturday… A few phone calls later, plans were hatched. Well, one small plan at least. We would meet at Riza, our sure-bet tsipouradiko in Thiseio, for a lite bite. But this being Athens, and the post-summer city nightlife positively buzzing, this plan quickly expanded.
Having satisfied our stomachs, and with the warm night still young, we decided to move on. We walked over to six d.o.g.s. in Monastiraki and had a quick drink in the energized, 'standing room only' vibe in the cool garden space… This is a very popular place, day or night – and with good reason.
Next stop: TAF in Monastiraki. This is for those who love unmarked doorways in empty alleyways, that open onto unexpectedly cool interior courtyards... Cool music, friendly vibe, graffiti-chic art spaces and a refreshingly adult crowd. Highly recommend.
On our way to TAF, we noticed a sign for a roof-top space called Couleur Locale. It's literally next door to TAF, through a small stoa, past the tiny taverna, and up to the roof via the elevator. This place opened just over a month ago, and is a wide-open, casual bar space – up-beat dance music, great drinks list and some delicious chef-made food choices. It's also quite a large space, and doesn't yet get too busy. Anyone else tired of not finding a table at 360 or A for Athens?
One thing is for sure: Athens in autumn doesn't force anyone indoors. While many of my Canadian friends are waking up to near-zero temperatures, I will 'have another round, please!', and might even leave my jacket at home…
Until next week,
Jack
In this weekly space, keep up with 'Jack' as he navigates daily life in Athens… Anecdotes, stories, hits & misses, the good, the bad and, well, the rest…