Athens' Rooftops
by XpatAthens
Thursday, 05 February 2015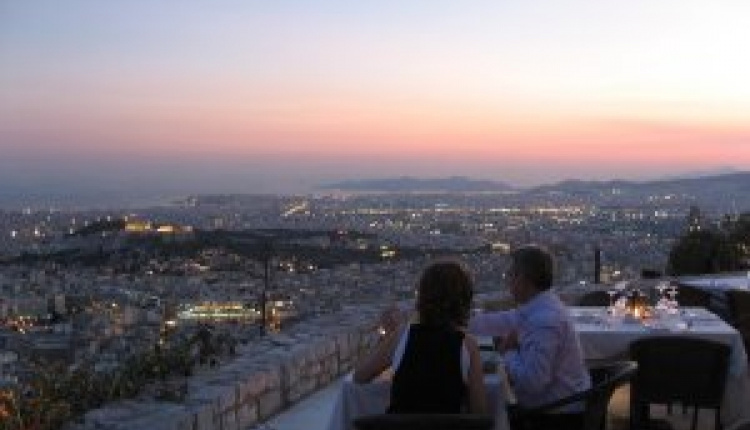 The best place to be on an evening with a lazy sunset and warm breeze – is on a rooftop patio. There are lots of rooftop patios in Athens – for eating, for coffee, for drinking. And for showing off the city in all its Instagram-worthy glory. This past weekend I managed to go to no less than 3 rooftop patios.
Filistron is a taverna on the Apostolou Pavlou pedestrian path – access the rooftop via the stairway to the side of the main entrance. The night I was there, the rooftop was packed, and they only just managed to fit three of us at a small table for two. We did not mind at all, as the view was worth it. I must say, even minus the view, Filistron has a delicious 'higher end' taverna menu. It's not the cheapest taverna around, but I would go back for the octopus alone. Definitely book ahead here.
Lazy as I am, I then took my friends about 10 metres away from Filistron for a drink at Chocolat Royal. This one is a lounge/café/restaurant, with a labyrinthine interior, that takes you up elevators and stairs and even past the kitchen, until you emerge onto the rooftop. The night we were there it wasn't busy at all – friendly service, restaurant menu. I wouldn't hurry back, but it was certainly a place to keep on the list for a quiet evening with a glass of wine.
Sunday afternoon with foreign visitors in town means one thing: a visit to A For Athens. By now this has become Athens most famous rooftop, and the place is worth a visit for the view alone. Which, given its popularity, is all we managed on Sunday. No available tables, but worth the effort for the Instagram shots.
I've listed a few great rooftops below – most are quite well known. Some are always busy (A For Athens), others are less so (Central Hotel), and some are must-dos for every visitor and resident of Athens (Lycabettus Hill at sunset). All have great views, and are great spots to take visitors – and even pass muster for most of us locals…
Some say Athens looks better from 20 meters up. I'm starting to believe it.
Filistron (reservation recommended)
23 Apostolou Pavlou
+30 2103422897
www.filistron.com

Chocolat Royal
27 Apostolou Pavlou
+30 210 346 9077
www.chocolatroyal.gr

Thissio View
25 Apostolou Pavlou
+30 2103476754
http://www.thissioview.gr

A For Athens
2-4 Miaouli Str., Monastiraki Square
+30 210 32 44 244
www.aforathens.com

360
2 Ifaistou Str., Monastiraki Square
+30 210 321 0006
www.three-sixty.gr

Central Hotel
Apollonos 21, Plaka
+30 210 3234357
www.centralhotel.gr
Lycabettus Café
Head to Lycabettus Hill, and go up :)
Until next week,
Jack
In this weekly space, keep up with 'Jack' as he navigates daily life in Athens… Anecdotes, stories, hits & misses, the good, the bad and, well, the rest…