The Local
by XpatAthens
Thursday, 05 February 2015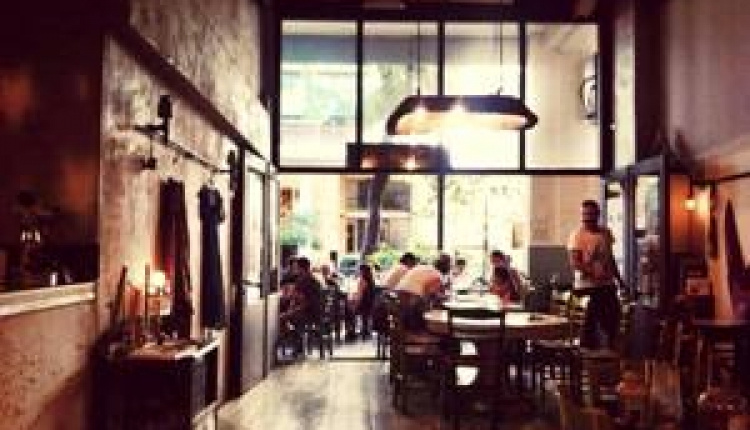 I spent Sunday afternoon at my Local. 'The Local' is a concept that everyone can understand.  It refers (usually) to the bar or pub nearest your house, the one that takes no effort to get to, and less effort to return from. The Local usually has the basic drinks options, friendly service, and a feeling of 'belonging' and community. Especially in a city like Athens, we've all got one – it may be a bar, a café, a taverna or even something like a supermarket.
We are fiercely loyal to our Local, and love bringing our friends and visitors there – although sometimes, if we're honest, they might not understand our fascination with the place!
My own local is a place called Riza. Technically, I would say it qualifies as a 'tsipouradiko' or 'rakadiko', a place one goes to drink tsipouro or raki, accompanied by a little snack to off-set the booze (!).
So yes, you can get tsipouro here – or raki, or ouzo or wine. But this is not the whole story.
Riza looks cool. The owner has an obvious creative flair, and has infused the little place with whimsical touches, a careful understated aesthetic, creative musical choices (on vinyl!), and a undeniable feeling of 'post-modern Athens'. So your eyes and ears and drink cup will be satisfied.
But what has kept me going back has nothing to do with the above. Riza has what is clearly a magician in the kitchen. The food is absolutely simple and absolutely delicious. (And, to be clear, nobody is paying me to write this.)
Here's the thing – the menu is tiny. With no more than 8 or 10 selections, it is handwritten into recycled/repurposed books – lately, old children's readers – literally scribbled and erased with the changing menu. And the menu does change, all the time, with whatever is fresh and local.  I would normally say 'Oh, try the ___', but at Riza that doesn't always work. So, instead, without hesitation, 'Oh, try everything…'  Delicious little sharing plates, a basket of fresh bread, and a wine-soaked afternoon in a friendly place under a tree – seriously, this what the Local is all about.
And the prices? I wont bother printing them here, since they are too good to be true. Let's just say your wallet will thank you.
So next time you're in Thisio and want a drink under a tree, and some lip-smacking meze… See you at my Local ;)
Riza
Iraklidon 7, Thisio, 11851
Phone: 213 023 7101
Facebook: http://tinyurl.com/opef866
Until next week,
Jack
In this weekly space, keep up with 'Jack' as he navigates daily life in Athens… Anecdotes, stories, hits & misses, the good, the bad and, well, the rest…