Ahoy There Buoyo!
by XpatAthens
Thursday, 05 February 2015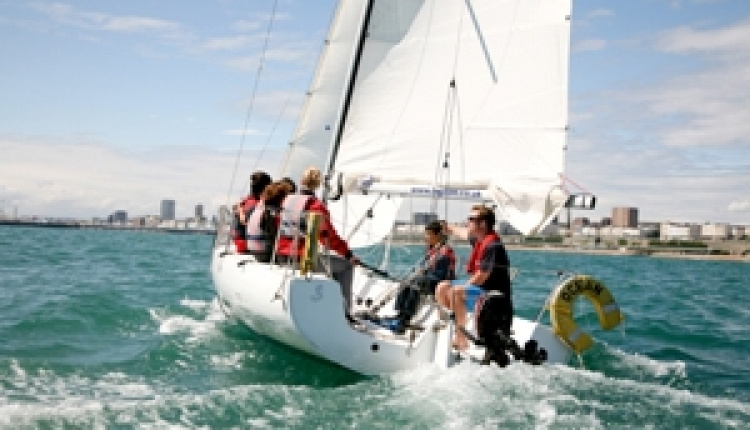 This week we share an email from our friend Anita.
Just back from an amazing, challenging and exciting week, well, 5 days. Simply by taking a ferry to Aegina I joined people who had had to cross the planet to have the same experience as me. What was I up to?
I had signed up for a sailing course which takes you around the Saronic Gulf, mooring up at a different location every evening.
Ooooh……….sorry…. just felt my chair slide to the left. Have been off board for 18 hours now and having acquired my sea legs without even noticing… I guess they take some time to fall off?
Lucky for me, I thought, this RYA course is taught in English – fellow crewmates from other countries have to work in their second language, but I am in my comfort zone of mother-tongue. Ha! Not exactly true my hearties! Boats have a WHOLE different language. Only by Day 3 was I finally getting my head round the fact that the 'mainsheet' is not in fact the BIG SAIL, as would seem obviously logical to me mateys, but a rope that controls the boom. And don't say 'rope' in front of my instructor if you don't want to be sent to the bow to flake the anchor in punishment, cos 'there are no ropes on a boat, only lines'!
Talking of punishment – if you laugh at my knots I may well clip you round the ear with my rolling hitch. Trouble is, by the time I've re-consulted my course book on how to tie it you will be off board and drinking beer in Hydra with our Skipper!
This mind-blowing experience was over too quickly. We were particularly fortunate I feel, as we went through all the weathers – from hot and sunny, millpond water (no air for sails at all), to 6-7 Beaufort - waves breaking over the bow and our sails almost dipping into the sea as we leant over at an impossible angle. I felt so intrepid! So, so exciting….
I will never forget that shared adventure with the excellent company of interesting, intelligent  crewmates and of course our brilliant yachtsman/racer instructor.
I miss my triangular double-bed already! I wanna go back! Thank you to the Aegean Sailing School!!
Thank you Anita for sharing!
Until next week,
Jack
 
In this weekly space, keep up with 'Jack' as he navigates daily life in Athens… Anecdotes, stories, hits & misses, the good, the bad and, well, the rest…