Athens Typology City Guide
by XpatAthens
Friday, 29 April 2016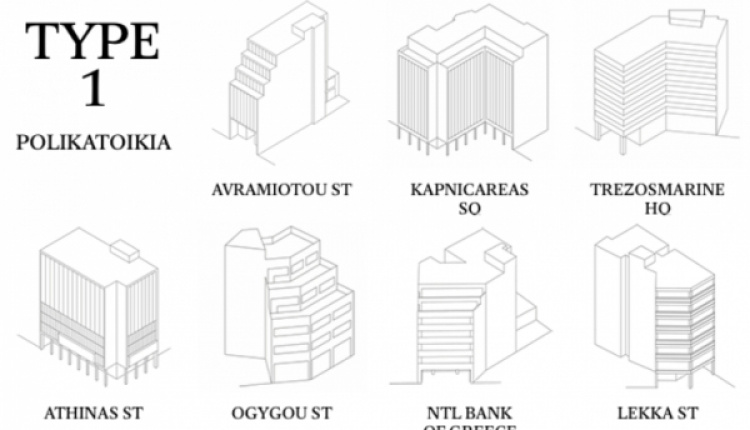 There is an app for every appetite, every obsession and every moment of the day. And just when you think you've seen them all, you hear about some new amazing piece of software that can work magic on the mundane.


Greece is slowly becoming a veritable wellspring of app development - from tourism to taxis and table reservations - with new innovations popping up all the time.


The other day I came across an app that, although not created in Greece, serves up a truly fascinating experience that fits the description of that thing 'you never knew you needed so much...'


How many times have you been wandering around the city, looking up at buildings that seem to be unimaginative (ugly?) blocks of concrete, the leftovers of a hastily-erected city in the mid-20th century? On a good day I've often thought 'How did that happen?' - on a bad day I've thought far worse...


The app, developed by the Design Studio Emanuel Christ and Christoph Gantenbein, and the Swiss Federal Institute of Technology in Zurich, helps you to find places and buildings that other guides will never take you to.


Following five years of academic research in eight cities, the team unveiled a series of original city apps that present a compilation of 20th century urban architecture. The buildings (for the most part ones you have probably never noticed) were chosen in order to provide a glimpse at metropolitan design in the 20th century, comparing the patterns and differences in building styles found around the world. In total,360 buildings from Hong Kong, Rome, New York, Buenos Aires, Paris, Delhi, São Paulo and Athens have been carefully analyzed and are presented in a separate app for each city.


The Athens app showcases 54 buildings, most of them of the 'what were they thinking' variety - with accompanying background information that helps you to understand precisely what they were thinking. With this little app in your pocket, the previously hideous buildings of the city centre take on a new life, as you begin to understand that each building has a 'past' and an entire set of reasons that it is the way it is... Much like people ;)


Check it out on the AppStore and Google Play, and see Athens in an entirely new light. And just like people, you may not end up loving these buildings any more than you did before - but you will at least understand their stories a bit better...


Until next week,


Jack