Athenian Winter ~ Sunshine, Relaxation & Great Bites
by XpatAthens
Wednesday, 03 February 2016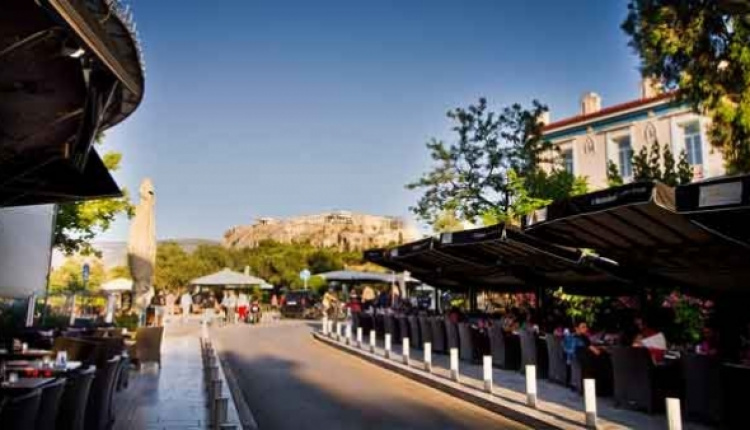 In the midst of renewed (never-ending?) talk of crises and new economic measures, blockades and taxes, refugees and borders, somehow this week we hit the weather jackpot. This is more like it - early February and 17 degrees! I heard it once said that climate is 80% of life. Maybe this is what explains the fact that Athens hasn't totally buckled under the pressure. We are coming frighteningly close - no argument there - but the shining sun manages to play some very welcome tricks on the soul...
 

And when the weather turns warm, the feet feel like wandering - getting out of the house is top of the to-do list. 
 
This week I popped out to a couple great places - neither really 'new', and neither really cheap, but worth adding to your list...
 

Living in Thiseio, everyone knows the old Stavlos bar. This is the historic building at the top of Herakleidon St., the (actual) horse stables of King Othon during the mid-19th century. The building has gone through various incarnations, most recently as 'Root Artspace '. That business has now been re-opened as
The Sowl
, and has undergone a considerable makeover the process. The beautifully restored space has been given a warm 'southwest' feel in both the decor and the menu. Think 'tex-mex' meets 'bohemian', and throw in a colourful water fountain. Almost deliberately over-the-top... They serve up delicious food, including a Mexican fusion-style menu and modern Greek selections. And there is a surprisingly interesting wine list with some nice international choices. All this means that your night out will cost you more than your local taverna - but it's 17 degrees outside after all ;)
 

Ths Sowl is still functioning as an art and events space, with a event room and an upstairs gallery. I actually went by on Saturday for a morning yoga class run by
Lynn Roulo
, and stayed afterwards for brunch with the group.
 

On another warm night I was invited for dinner at
Cinco
in Kolonaki. Cinco has been on my list to try for a long time - the Iberian/Japanese/Peruvian fusion menu is pretty unique in Athens, and I heard the vibe was very cool... I was not disappointed. Definitely interesting menu (sea bass ceviche with pomegranate-tigers milk and red quinoa…!) and a relaxed trendy vibe, in a lofty industrial space. There is a ceviche bar, there are interesting cocktails, there was retro pop playing that night - a trendy spot by any standard, and easy to imagine that you are far away from Athens... Again, this is not your neighbourhood taverna - think The Sowl and then some. A bit over-priced if I'm being honest, but not the usual Athens kitchen...
 

I was pleasantly surprised by the fact that they both accept credit cards, but even my neighbourhood mini-market has touchless payments these days. A topic for another time...!
 

Go ahead - get out and enjoy this Athenian winter... It's 17 degrees outside after all. 


Until next time,
 

Jack


The Sowl
Herakleidon 10, Thiseio
+30 210 345 0003
Skoufa 52, Kolonaki
+30 210 364 3603