Forget Me Not ~ Take Home A Contemporary Piece Of Greece
by XpatAthens
Friday, 04 September 2015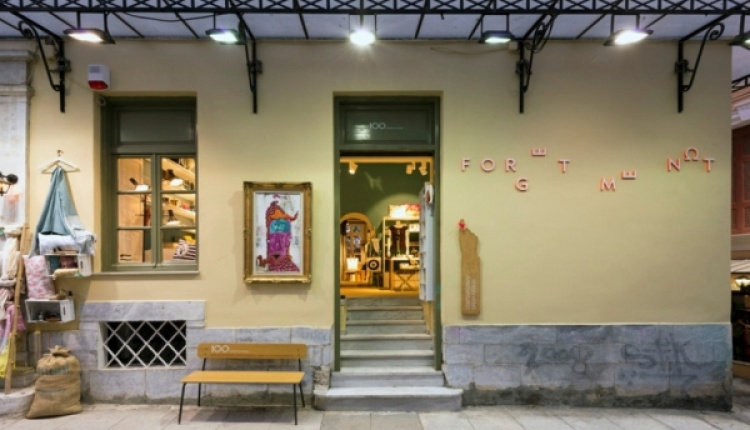 It may be 'back to school' and 'καλο χειμωνα' for many of us, but a 40 degree heatwave and a city full of tourists sure makes it feel otherwise! With the end of summer still a fair distance away, I must admit to being rather tired of the 'I am Sparta' t-shirts and the ubiquitous 'blue and white fridge magnets' lining the streets of Plaka. Does anybody buy these things? I've had a constant stream of visitors over the past months, and unless I'm mistaken, there have been no blue and white fridge magnets passing between them...
But seriously, what's a tourist to do with her eager-to-be-spent euros? What else should we buy for souvenir gifts for those not lucky enough to visit Greece with us?
Well, there are many options to be sure - replica pottery, leather sandals (in fact not a bad choice!) key chains, or perhaps your name on a tiny piece of rice (oh yes.). But for the discerning traveller - and the even more discerning local - there is Forget Me Not, a fantastic little shop selling fantastic little gifts and souvenirs of Athens and Greece - with a decidedly hip eye towards modern design and all things 'cool'. I am sure that our in-the-know readers are familiar with this shop - but in case you're not.
Forget Me Not is located at 100 Adrianou Street, in a house where the Greek hero Kolokotronis once lived, in the midst of 'I am Sparta' and knock-off luggage shops. You can't miss the yellow painted walls and iconic wooden bench outside the door. There are two levels - the lower level is just outside, around the corner. The main street level sells a range of design items that are sure put you in the 'souvenir hall of fame' category. The lower level continues the theme, with lots of Athens-chic clothing and accessories.
Contemporary Greek design, clothing you actually want to wear, unique memorabilia and decidedly cool gifts. It's all here. Even the New York Times has taken notice.
Let me be clear - this is not a marketing piece in the least. I just think this is one super-cool shop, and a great example of what 'today's Athens' should feel like. I wish more retailers would take notice.
And with an e-shop offering worldwide delivery and free delivery within Greece - everyone on your list can have a taste of the contemporary side of Greece.
Until next week,
Jack
Forget Me Not
100 Adrianou Street, Plaka