Consultant Psychiatrist - Dr. Eirini Theochari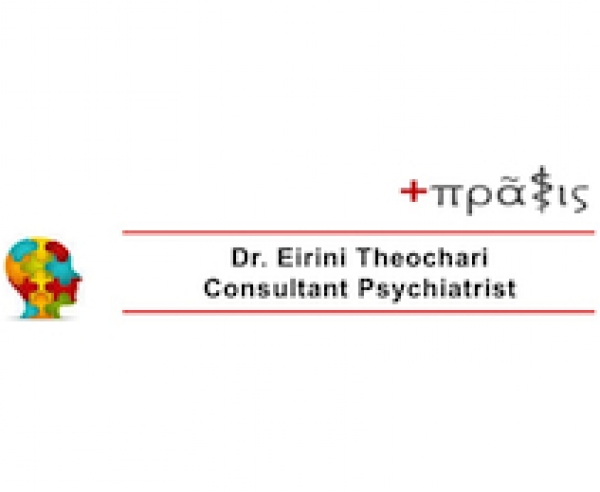 ABOUT
Dr. Eirini Theochari is a consultant psychiatrist and psychotherapist with special interest in human cognitive functioning (memory, attention, concentration). Psychotherapy is provided in the private practice and is of psychodynamic and systemic approach and can be individualized according to needs.

Full psychiatric evaluation and consultation is provided using the most up to date psychiatric scales and relief of symptoms is achieved. Several situations are treated like anxiety, phobias, compulsions, depression, psychosomatic symptoms, paranoia, psychosis, behavior disturbances, aggressiveness and delirium. Conflicts in family settings, in relationships, difficulties with divorce and bereavement can be resolved with appropriate consultation. Supportive psychotherapy can also be provided to cope with stress related to newly diagnosed somatic diseases like diabetes and help people adapt more easily to a new way of life.

Every Thursday the private practice operates as a dementia diagnostic centre. Special attention is given to the detailed evaluation of memory deficits, a valid diagnosis is given and a full therapeutic plan is discussed including memory training and medication if needed.
The private practice operates daily.
An appointment is needed to schedule a consultation with Dr Eirini Theoochari.
CONTACT INFO
Title:

Consultant Psychiatrist - Dr. Eirini Theochari

Telephone:

213 02 90 863, 694 53 51 871

Email:

etheochari@synpraxis.eu, drtheochari@gmail.com

Post Code:

11526

Address:

8 Kifisias Ave. & Alexandras Ave, Athens, Greece - Metro Station Ampelokipoi